A weekend in San Diego
November 3, 2023
Why you should go to San Diego:
San Diego, California, is a city that embodies the quintessence of the Californian spirit—endless sunshine, impeccable beaches, and an ambiance that oscillates between laid-back relaxation and vibrant cultural festivity. A weekend in San Diego is a chance to immerse yourself in a variety of experiences that range from the natural wonders of the Pacific coastline to the historical insights of Old Town, the birthplace of California. Whether you're sunbathing on the shores of La Jolla, marveling at the marine life in the Birch Aquarium, or taking a scenic cruise around San Diego Bay, the city's natural charms are a balm for the soul. For the adventure seekers, hiking the trails of Torrey Pines State Reserve, or perhaps a day spent at the world-renowned San Diego Zoo, will fill your days with excitement and awe at the region's biodiversity.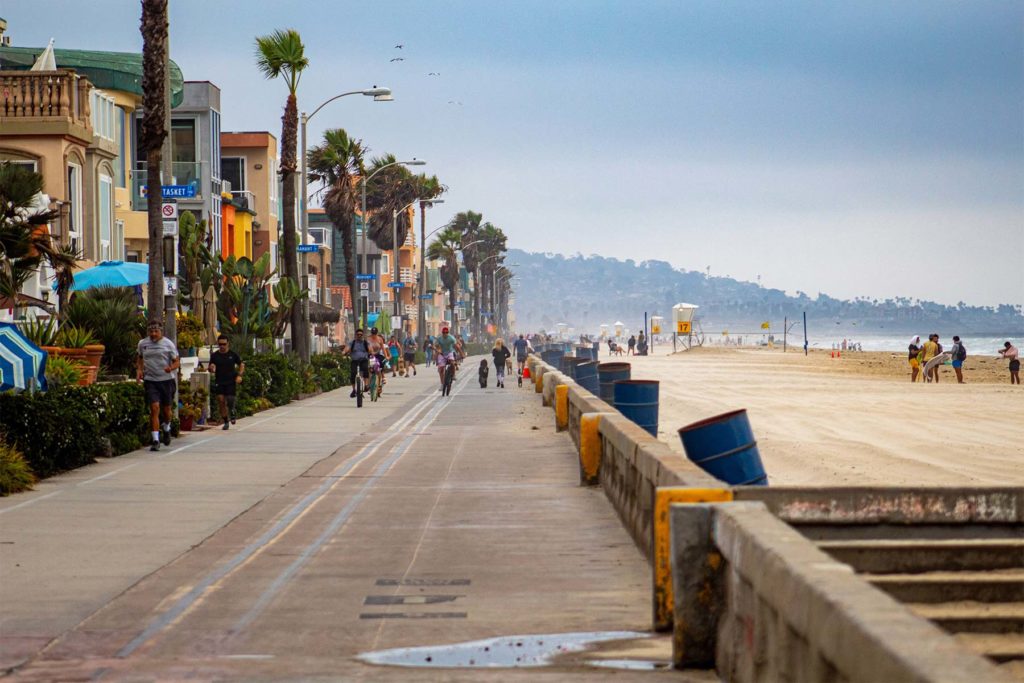 Beyond the allure of its natural landscapes, San Diego's urban tapestry is rich with cultural offerings. The Gaslamp Quarter offers a bustling scene with its trendy restaurants, craft breweries, and lively nightlife that showcases the city's modernity amidst historical Victorian architecture. Meanwhile, Balboa Park is a cultural jewel with over 17 museums, performing arts venues, and the stunning Botanical Building, one of the largest lath structures in the world. Indulging in the city's culinary scene is a must, with farm-to-table restaurants, authentic Mexican cuisine, and fresh seafood caught daily from the Pacific Ocean. A weekend in San Diego provides a blend of relaxation, recreation, and cultural enrichment that's hard to match, offering something for everyone under its sun-kissed skies.
Where to stay in San Diego – the top 5 hotels
Fairmont Grand Del Mar
Encapsulating the epitome of luxury and exclusivity, the Fairmont Grand Del Mar stands as an illustrious retreat, resonating with an elegance that beckons those seeking an unrivaled sojourn in San Diego. This prestigious hotel, boasting a collection of awards for its superior service, is nestled within the serene Los Peñasquitos Canyon Preserve. It provides an escape that melds old-world Mediterranean charm with modern luxury. The ambiance of the Fairmont Grand Del Mar is one of refined tranquility, with its design and décor reflecting the meticulous craftsmanship and grandeur of a European estate, complemented by the warmth of Southern California's style. Each guest experience is elevated by the hotel's sumptuous accommodations, world-class dining—including a Michelin-starred restaurant—, a renowned golf course, and a sublime spa that promises rejuvenation for the senses. Whether indulging in an afternoon of golf, exploring the nearby trails on horseback, or simply relaxing by one of the pristine pools, the Fairmont Grand Del Mar curates a stay that transcends mere hospitality—it's an invitation to experience the grandeur of life.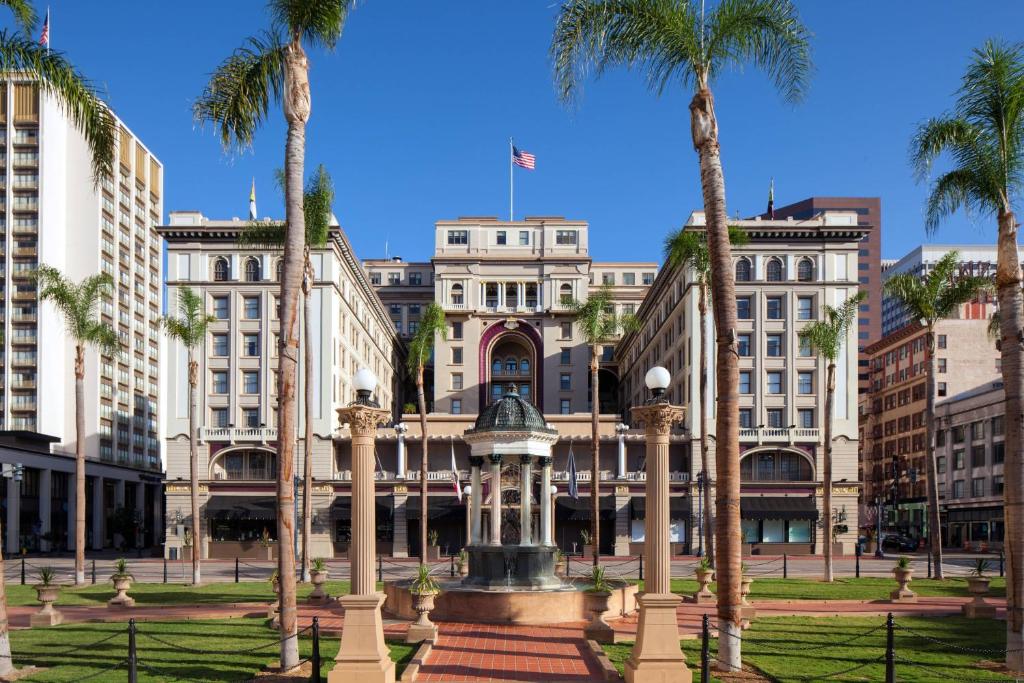 The US Grant, a Luxury Collection Hotel
Steeped in over a century of history, The US Grant Hotel stands as a venerable beacon of luxury in the heart of San Diego's vibrant downtown. From its inception in 1910, this cherished landmark has hosted dignitaries and discerning travelers in an atmosphere that artfully balances its storied past with contemporary elegance. The hotel's stately façade gives way to a regal interior, where each room and suite is an enclave of sophistication—fashioned with stylish furnishings, plush bedding, and adorned with original artwork. Situated within the pulsating Gaslamp Quarter, The US Grant places guests at the epicenter of San Diego's finest entertainment, shopping, and dining options, making it an impeccable choice for those who wish to explore the city's lively urban rhythm. The hotel's own offerings, such as its Grant Grill, strike a chord with those who appreciate culinary excellence in a historic setting. The US Grant isn't simply a place to stay; it is a part of San Diego's heritage—a place where luxury is not just experienced but felt through the rich narrative of its hallowed halls.
Pendry San Diego
Pendry San Diego is the embodiment of modern luxury with an air of relaxed sophistication, sitting in the throbbing heart of San Diego's illustrious Gaslamp Quarter. This contemporary hotel stands out as a beacon of chic comfort and urban style, inviting guests to partake in an unparalleled hospitality experience. Its atmosphere is characterized by a tasteful blend of art, design, and culture—mirroring the vibrant energy that spills from the surrounding downtown streets. Each guestroom is a testament to Pendry's commitment to understated elegance, combining plush interiors with state-of-the-art amenities. Culinary adventures await with multiple dining venues that cater to sophisticated palates, while the rooftop pool offers panoramic views of the city, creating a dynamic social scene that's infused with Southern Californian charm. Pendry San Diego is more than just a hotel—it is a cultural hub that places its guests at the crossroads of the city's most electrifying nightlife, shopping, and dining experiences.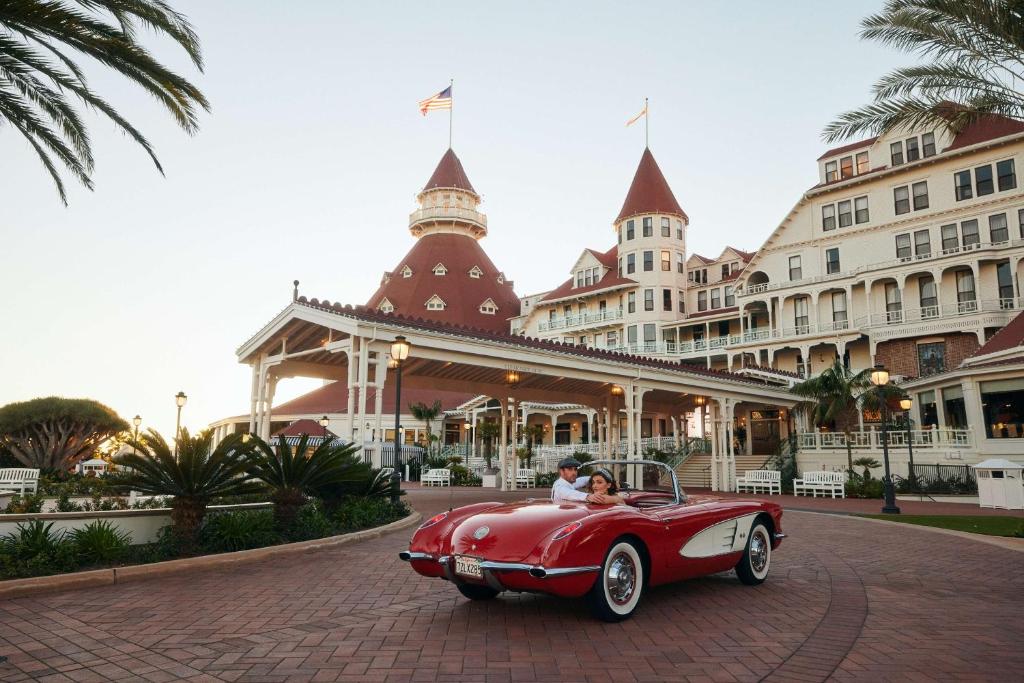 Hotel del Coronado
As a timeless classic perched on the edge of the Pacific, Hotel del Coronado is more than just a beachfront property; it is a cherished emblem of San Diego's rich history and leisure culture. Since 1888, 'The Del' has captured the hearts of guests with its iconic red-roofed turrets and majestic Victorian architecture, offering a storybook backdrop to a luxurious seaside getaway. Guests are enveloped in an atmosphere that harks back to the glamour of a bygone era, while simultaneously offering modern luxury and comfort. The hotel's expansive sandy shores provide an idyllic setting for sunseekers and ocean lovers, and its array of amenities—from ocean-inspired spa treatments to waterfront dining—ensure that every stay is steeped in indulgence. Whether it's strolling along the beach at sunset, toasting marshmallows by a private beach bonfire, or unwinding in elegantly appointed rooms with breathtaking views, the Hotel del Coronado curates a coastal experience that is both enchanting and unforgettable.
Rancho Valencia Resort & Spa
Tucked away in the affluent neighborhood of Rancho Santa Fe, Rancho Valencia Resort & Spa is an Andalusian oasis offering an intimate escape amidst lush gardens and olive groves. This five-star resort and spa is synonymous with serenity and wellness, designed for those who seek respite from the bustling world. As you enter the gates, you are greeted by the soothing sound of fountains and the fragrance of flowering flora, setting the tone for a tranquil retreat. The casitas are sanctuaries of comfort and privacy, with Spanish-style architecture that harmonizes with the natural surroundings. The resort's wellness focus is highlighted by its world-class spa, yoga pavilion, and fitness programs, complemented by its tennis facilities, consistently ranked among the best in the nation. Dining at Rancho Valencia is an epicurean delight, with the farm-to-table philosophy ensuring every dish is fresh, locally-sourced, and exquisitely prepared. This is a retreat not just for the body, but for the soul—a place where luxury and wellness intertwine to create a rejuvenating escape in San Diego's idyllic countryside.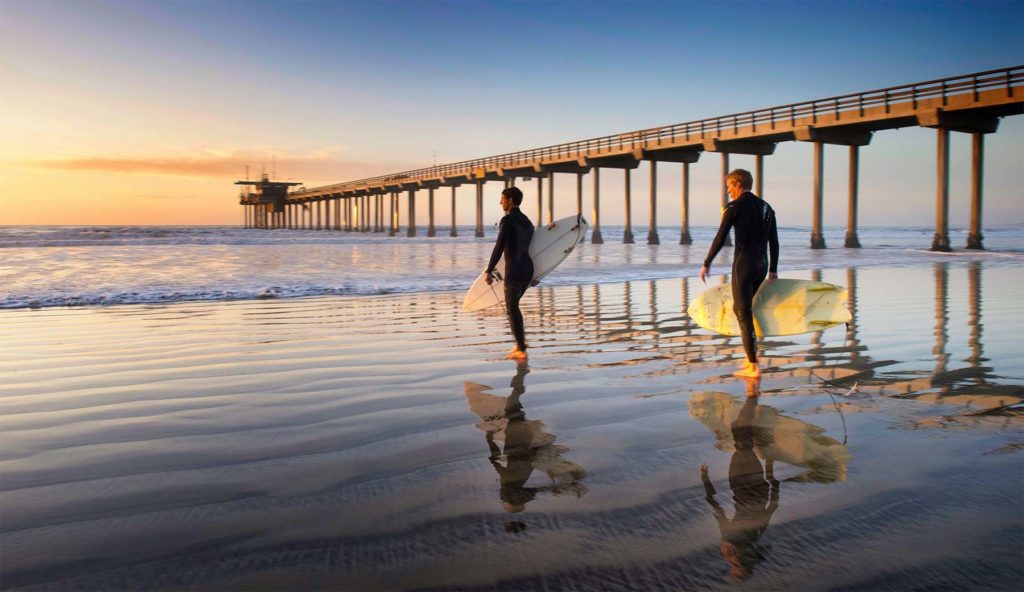 What to do in San Diego
San Diego, with its sun-soaked beaches, vibrant culture, and rich history, offers an array of unforgettable experiences for travelers. Here are the top 10 travel ideas to make your trip to San Diego truly memorable.
USS Midway Museum: Walk through a part of history at the USS Midway Museum, a decommissioned aircraft carrier that served in the US Navy for 47 years. The museum features more than 60 exhibits and 29 restored aircrafts.
Balboa Park: Explore Balboa Park, home to 17 museums, beautiful gardens, and the world-famous San Diego Zoo. Don't miss the San Diego Museum of Art and the Museum of Us.
Maritime Museum of San Diego: Immerse yourself in maritime history at the Maritime Museum, featuring historic ships including the world's oldest active ship, Star of India.
Old Town San Diego: Experience California's history in Old Town San Diego, the state's first settlement. Explore historic buildings, enjoy authentic Mexican cuisine, and shop for unique souvenirs.
Gaslamp Quarter: Discover the bustling nightlife in the Gaslamp Quarter, a 16-block historic district filled with shops, restaurants, and nightclubs.
San Diego Seal Tour: Join the San Diego Seal Tour for an exciting land and sea adventure. This amphibious tour offers spectacular views of the city and its marine life.
Intro to Mexico Walking Tour: Take a day trip from San Diego to Tijuana with the Intro to Mexico Walking Tour. Explore Tijuana's colorful markets, delicious street food, and vibrant culture.
Pacific Beach: Relax at Pacific Beach, a popular spot for surfing and sunbathing. Enjoy fresh seafood at one of the many beachfront restaurants.
Centro Cultural de la Raza: Visit the Centro Cultural de la Raza, a community center promoting Chicano, Mexican, and Indigenous art and culture.
California Center for the Arts, Escondido: Enjoy a show at the California Center for the Arts, Escondido, offering diverse performances from ballet to symphony to pop music.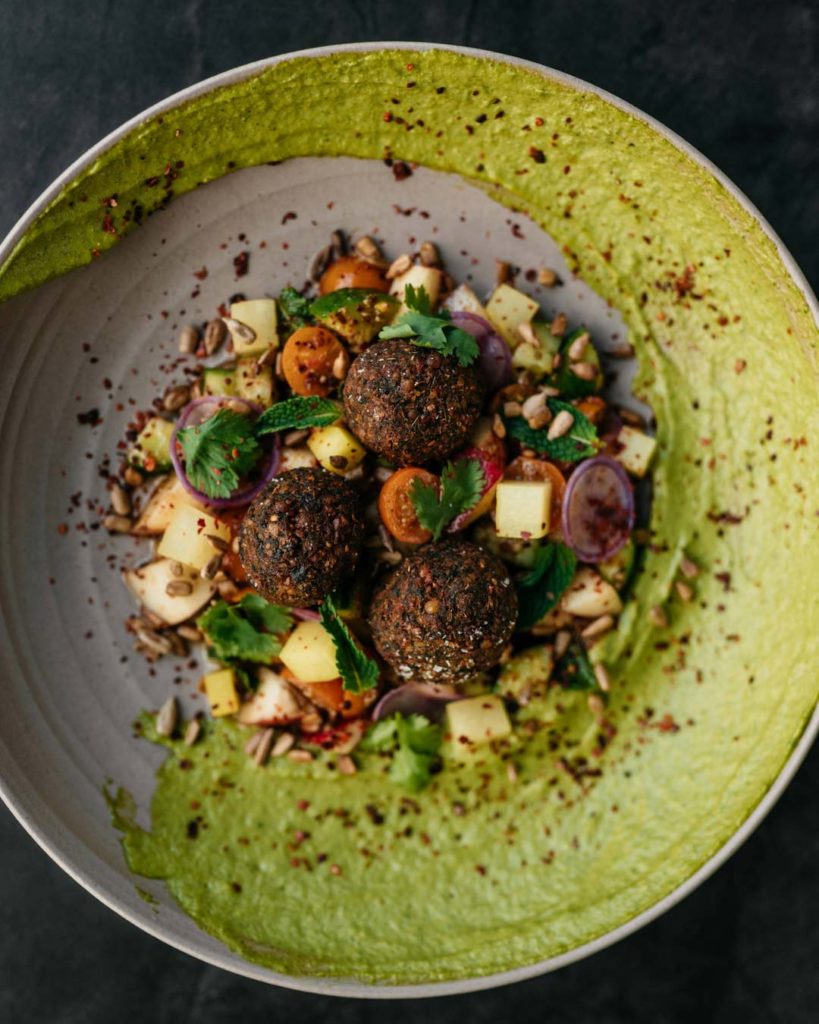 Where to eat in San Diego
San Diego's dining scene is as vibrant and diverse as the city itself. Here are five must-try restaurants that encapsulate the essence of this coastal city.
Buona Forchetta: Known for its authentic Italian cuisine, Buona Forchetta offers a wide range of pizzas baked in a golden, wood-fired oven. The cozy, family-friendly atmosphere and the heartwarming aroma of baking dough make it an integral part of the San Diego experience.
Hidden Fish: This sushi hotspot specializes in omakase, a Japanese tradition where the chef selects your dishes. With its intimate setting and expertly crafted sushi, Hidden Fish provides a unique and luxurious dining experience.
Cesarina: Named after the owner's grandmother, Cesarina offers a taste of Rome in San Diego. From handmade pastas to decadent desserts, every dish is a labor of love. The charming decor and warm service make dining here feel like a meal at an Italian family home.
Fort Oak: Located in the heart of Mission Hills, Fort Oak is known for its innovative approach to American cuisine. The stylish, modern interior and open kitchen design create an engaging dining atmosphere. Their Duroc pork chop is a must-try.
Afuri Ramen + Dumpling: This La Jolla restaurant is famous for its yuzu shio ramen, a tangy, citrus-infused broth that's a refreshing twist on the traditional ramen. The sleek, minimalist design and communal seating make it a trendy spot for foodies.
Each of these restaurants offers a distinctive taste of San Diego, from authentic Italian cuisine to innovative American dishes to Japanese delicacies. So, sit back, relax, and let your taste buds embark on a culinary journey through America's Finest City.
Check out our travel ideas.