Stockholm's best neighborhood for your stay
August 17, 2023
Where will you stay in Stockholm during your holidays ? Here is a quick guide to find the best location for your stay. Stockholm, often referred to as the "Venice of the North", is a mesmerising blend of islands, bridges, and distinct neighbourhoods. Each area offers its own unique experiences, and here's a comprehensive guide to help you navigate through them.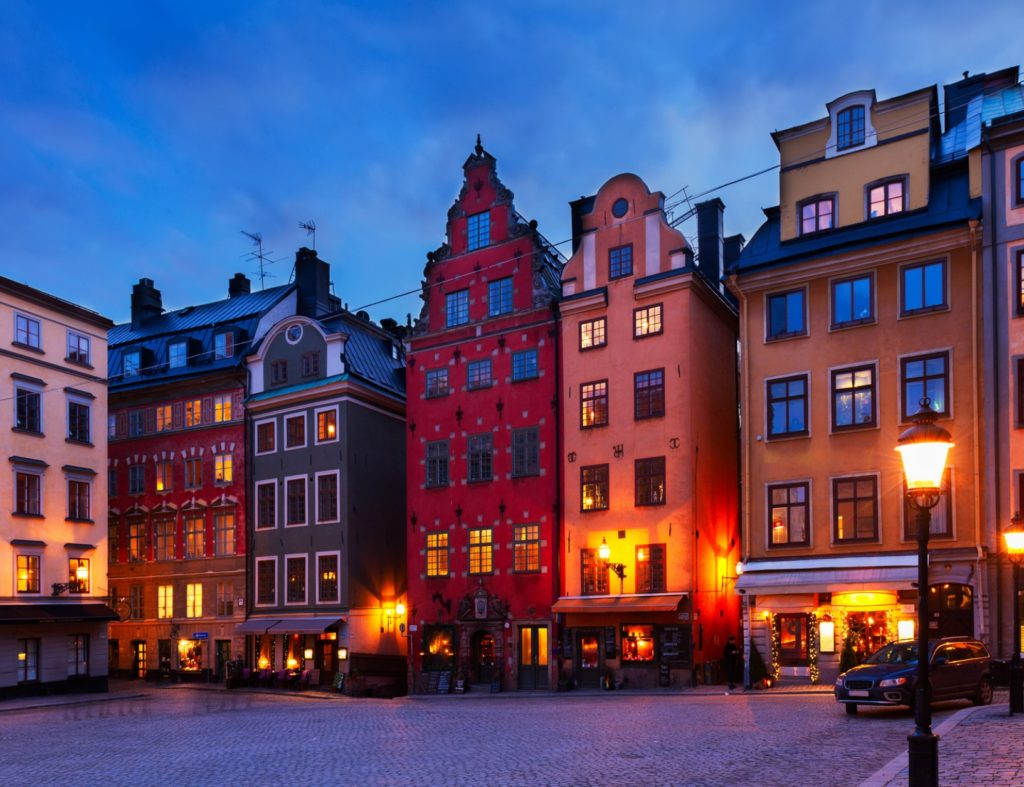 Gamla Stan (Old Town)
Presentation: Gamla Stan, the historical heart of Stockholm, mesmerizes visitors with its medieval streets, colourful buildings, and rich history.
Gamla Stan, also known as the Old Town, is a captivating historical district located in the heart of Stockholm, Sweden. Steeped in rich heritage and charm, this enchanting neighborhood dates back to the 13th century and boasts cobblestone streets, colorful buildings, and medieval architecture. As you wander through Gamla Stan's narrow alleyways, you'll discover a treasure trove of quaint shops, cozy cafes, and lively restaurants serving traditional Swedish cuisine. The Royal Palace, a magnificent landmark, stands proudly in the heart of Gamla Stan, showcasing the royal history of Sweden. With its vibrant atmosphere, fascinating museums, and picturesque views, Gamla Stan is a must-visit destination for history buffs and culture enthusiasts alike. Don't forget to capture the essence of this remarkable place with a stroll along the waterfront, overlooking the stunning Stockholm archipelago.
Points of Interest: Stockholm Cathedral, The Royal Palace, Stortorget Square, Nobel Museum.
Luxury Hotel: Nobis Hotel. Housed in two 19th-century buildings, it fuses modern Scandinavian design with historic elegance.
Connectivity: Centrally located and well-connected with major transit options, making it easily accessible from other city attractions.
Södermalm
Presentation: Trendy and vibrant, Södermalm offers an eclectic blend of culture, history, and modernity.
Södermalm, known as "Söder" by locals, is a trendy and vibrant district in Stockholm, Sweden. This neighborhood, located south of Gamla Stan, offers a unique blend of old-world charm and modern urban culture. With its bohemian atmosphere and picturesque streets, Södermalm has become a haven for artists, musicians, and hipsters. As you explore the area, you'll find a diverse range of vintage boutiques, eclectic cafes, and hip bars that cater to all tastes. The district also boasts several scenic parks, such as Vitabergsparken, where you can relax and enjoy stunning views of the city. Södermalm is also home to Fotografiska, a renowned photography museum that hosts captivating exhibitions by both local and international artists. Whether you're seeking a vibrant nightlife, cultural experiences, or simply want to soak up the creative ambiance, Södermalm is a must-visit destination that showcases the dynamic spirit of Stockholm.
Points of Interest: Fotografiska Museum, Monteliusvägen, SoFo's boutiques.
Luxury Hotel: Hotel Rival. Owned by ABBA's Benny Andersson, it boasts of chic interiors and a touch of musical nostalgia.
Connectivity: With multiple subway stations and bus routes, it's conveniently connected to other parts of Stockholm.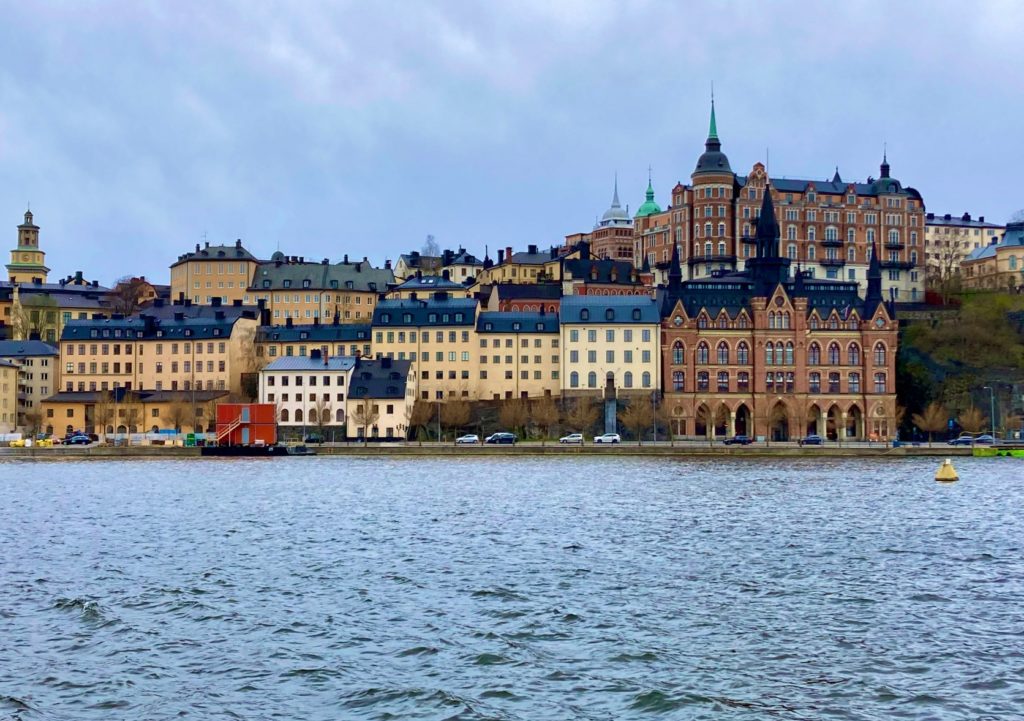 Östermalm
Presentation: The upscale neighbourhood of Östermalm exudes elegance with its boulevards, designer boutiques, and gourmet restaurants.
Östermalm, located in the heart of Stockholm, is a sophisticated and upscale district known for its elegance and affluent atmosphere. This neighborhood is characterized by its stately buildings, luxurious boutiques, and high-end restaurants. Östermalm's streets are lined with beautiful architecture, including grand mansions and ornate townhouses. One of the area's main attractions is Östermalm Market Hall, where you can find a wide array of fresh produce, gourmet food, and specialty items. For those seeking relaxation, Djurgården, a nearby island, offers lush green spaces and scenic waterfront views. Here, you can explore museums like the Vasa Museum or take a leisurely stroll through the picturesque gardens of Rosendals Trädgård. Whether you're looking to indulge in fine dining, go on a shopping spree, or enjoy cultural experiences, Östermalm offers a refined and sophisticated atmosphere that will leave you enchanted.
Points of Interest: Östermalms Saluhall, The Swedish History Museum, Djurgården island attractions.
Luxury Hotel: Ett Hem. This hotel feels like a luxurious home away from home.
Connectivity: Easily accessible by subway, with Djurgården just a short walk or tram ride away.
Djurgården
Presentation: This serene island is a delightful blend of museums, parks, and entertainment venues.
Djurgården, an idyllic island located in central Stockholm, is a haven of natural beauty and cultural attractions. Known as the "Green Island," Djurgården offers a tranquil escape from the bustling city. The island is dotted with lush green spaces, expansive parks, and beautiful waterfront views. It's the perfect place for a leisurely walk, bike ride, or picnic. Djurgården is also home to several world-class museums and attractions. One of the most popular is the Vasa Museum, which houses the well-preserved Vasa ship, a 17th-century warship that sank on its maiden voyage. The museum provides a fascinating glimpse into Sweden's maritime history. Another notable attraction on Djurgården is Skansen, the world's oldest open-air museum. Here, you can explore traditional Swedish buildings, observe native wildlife, and learn about the country's cultural heritage. For art enthusiasts, the island offers the Moderna Museet, showcasing contemporary and modern art, and the ABBA Museum, where you can immerse yourself in the legendary pop group's music and history. In addition to its cultural offerings, Djurgården is a popular recreational area. You can rent a paddleboat or kayak to explore the surrounding waterways, or simply relax in one of the island's tranquil gardens. Djurgården truly offers a blend of nature, culture, and relaxation, making it a must-visit destination for both locals and tourists in Stockholm.
Points of Interest: Skansen Open-Air Museum, Vasa Museum, ABBA The Museum.
Luxury Hotel: Pop House Hotel. Located within the ABBA Museum, it offers a unique experience for fans.
Connectivity: A short ferry or tram ride from the city centre, and within walking distance from many attractions on the island.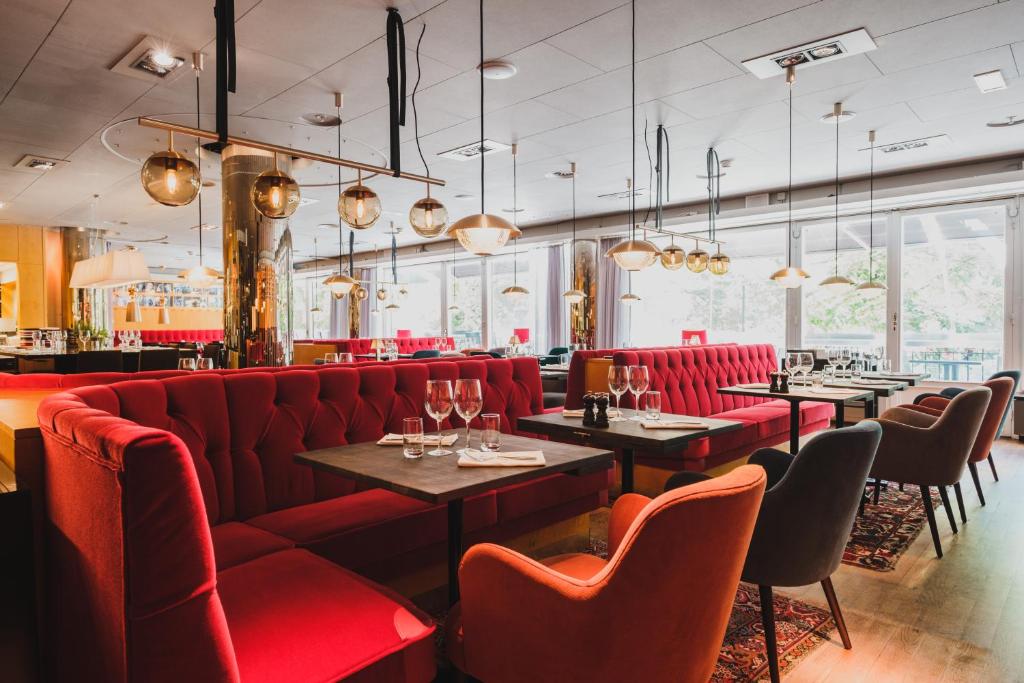 Kungsholmen
Presentation: A calm respite from tourist crowds, Kungsholmen features scenic waterfront paths and parks.
Kungsholmen, a charming island located in the heart of Stockholm, offers a delightful mix of urban living and natural beauty. This vibrant district is known for its picturesque waterfront views, historic architecture, and lively atmosphere. As you wander through Kungsholmen's streets, you'll encounter a variety of architectural styles, from traditional Swedish buildings to modern structures. The island is home to several notable landmarks, including the imposing City Hall (Stadshuset), where the Nobel Prize banquet takes place each year. The City Hall's distinctive silhouette can be seen from various vantage points on the island and provides a stunning backdrop. Kungsholmen is also home to a number of parks and green spaces, perfect for leisurely strolls or picnics. Rålambshovsparken, located along the waterfront, offers breathtaking views of Lake Mälaren and is a popular spot for outdoor activities such as jogging, biking, and sunbathing. Nearby, you can find Norr Mälarstrand, a scenic promenade lined with cafes and restaurants, perfect for enjoying a meal or a cup of coffee while taking in the views. Culture enthusiasts will appreciate Kungsholmen's cultural offerings, including museums like the Museum of Modern Art (Moderna Museet) and the Stockholm City Theatre (Stockholms Stadsteater). These venues showcase contemporary art exhibits and host performances ranging from theater plays to dance shows. Kungsholmen's central location also means it is well-connected to other parts of Stockholm, making it convenient for exploring the city. Whether you're seeking historical sites, cultural experiences, or simply want to soak up the relaxed atmosphere, Kungsholmen is a captivating destination that showcases the best of Stockholm's charm.
Points of Interest: Stockholm City Hall, Rålambshov Park.
Luxury Hotel: Courtyard by Marriott Stockholm Kungsholmen. A blend of comfort and Swedish aesthetics.
Connectivity: Well-connected via the subway, and a short distance from the central station and other attractions.
Vasastan
Presentation: A charming neighbourhood known for its architecture, parks, and lively squares.
Vasastan, a vibrant and eclectic neighborhood in Stockholm, offers a unique blend of historic charm, trendy shops, and lively entertainment. This district, known for its beautiful architecture and welcoming atmosphere, is a favorite among locals and visitors alike. As you explore Vasastan, you'll be captivated by its picturesque streets lined with colorful buildings. The area is characterized by its well-preserved 19th-century architecture, featuring ornate facades and charming details. Strolling through the neighborhood's tree-lined avenues, such as Odengatan or Sankt Eriksplan, provides a sense of the area's rich history. Vasastan boasts a diverse range of boutiques, vintage stores, and local shops. Shoppers can browse for unique fashion finds, antiques, or handmade crafts along the bustling streets of Rörstrandsgatan and Odenplan. The neighborhood also features a selection of delightful cafes, cozy restaurants, and trendy bars, offering a variety of culinary experiences to suit every taste. In terms of culture, Vasastan has much to offer. The Stockholm Public Library, located near Odenplan, is a magnificent architectural gem that houses a vast collection of books and hosts various cultural events. For theater enthusiasts, there are several renowned theaters in the neighborhood, including the Vasateatern and the Intiman Theatre. For nature lovers, Vasaparken is a serene green space where you can enjoy a peaceful walk, have a picnic, or simply relax on a sunny day. The park is also home to Tingshuset, a charming café and meeting place. Vasastan's central location makes it convenient to explore other parts of Stockholm. With excellent public transportation connections, you can easily venture out to nearby attractions such as Gamla Stan (the Old Town) or Djurgården.
Points of Interest: Stockholm Public Library, Odenplan, Gustav Vasa Church.
Luxury Hotel: Hotel Hansson. It marries historical charm with contemporary luxury.
Connectivity: With its central location and several subway stations, exploring other parts of Stockholm is a breeze.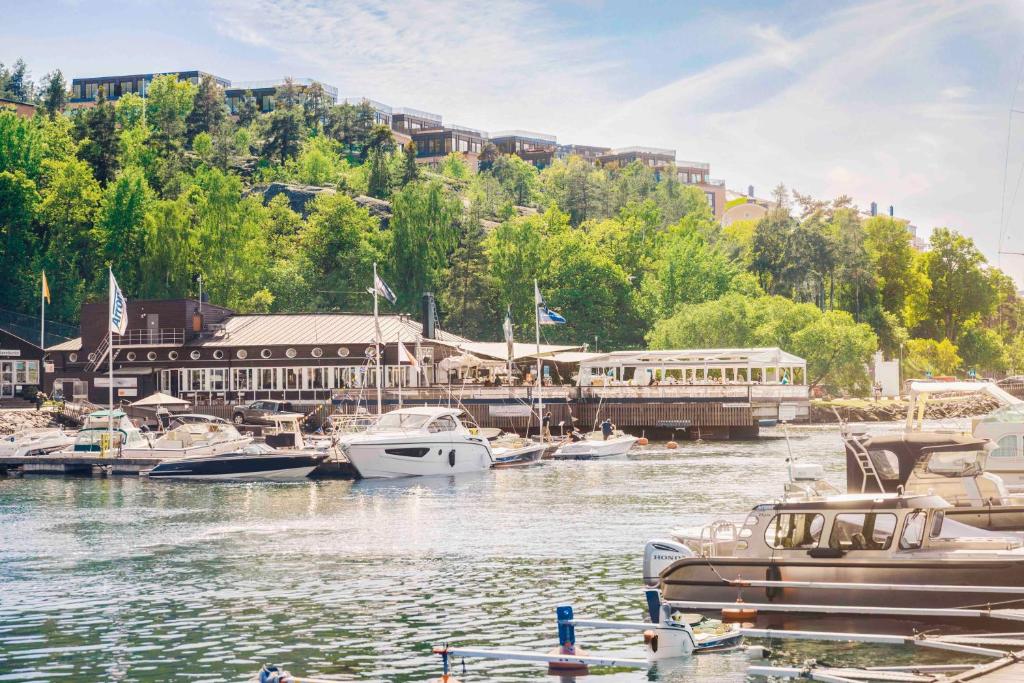 Nacka
Presentation: A blend of urban living and nature, Nacka offers waterfront views and dense forests.
Nacka, a picturesque municipality located just east of Stockholm, offers a unique blend of natural beauty, modern architecture, and cultural attractions. This charming area is known for its stunning waterfront views, lush green spaces, and vibrant communities. Nacka is surrounded by the beautiful archipelago, providing residents and visitors with ample opportunities to explore the tranquil lakes, secluded beaches, and scenic hiking trails. The nearby Nackareservatet nature reserve offers a peaceful retreat where you can enjoy outdoor activities like birdwatching, picnicking, or simply taking a leisurely walk amidst the serene surroundings. The area also boasts impressive modern architecture, with notable landmarks like Nacka Forum and Nacka Strand. Nacka Forum is a bustling shopping center that combines retail therapy with stylish design, while Nacka Strand is a waterfront development that includes residential buildings, restaurants, and cultural venues. Art and culture enthusiasts will find plenty to enjoy in Nacka. The Dieselverkstaden Cultural Center is a hub for artistic expression, hosting a variety of events, exhibitions, and performances throughout the year. It also houses a library, a cinema, and a café, making it a popular gathering place for locals. Nacka's strategic location provides easy access to both natural and urban attractions. The nearby Sickla Köpkvarter offers a wide range of shops, restaurants, and entertainment options, while the city center of Stockholm is just a short journey away by public transportation.
Points of Interest: Nacka Nature Reserve, Nacka Strand.
Luxury Hotel: Hotel J. With its nautical theme, it provides a gateway to the archipelago.
Connectivity: Though slightly farther, regular ferries and buses ensure easy access to the city's central areas.
The Best Neighbourhood for a Stay: Gamla Stan (Old Town)
For those exploring Stockholm for the first time, Gamla Stan offers an immersive experience of the city's soul. Its central location, dense concentration of iconic landmarks, and well-established connectivity make it an ideal base. You're not just staying in a neighbourhood but stepping back in time, right in the pulse of Stockholm.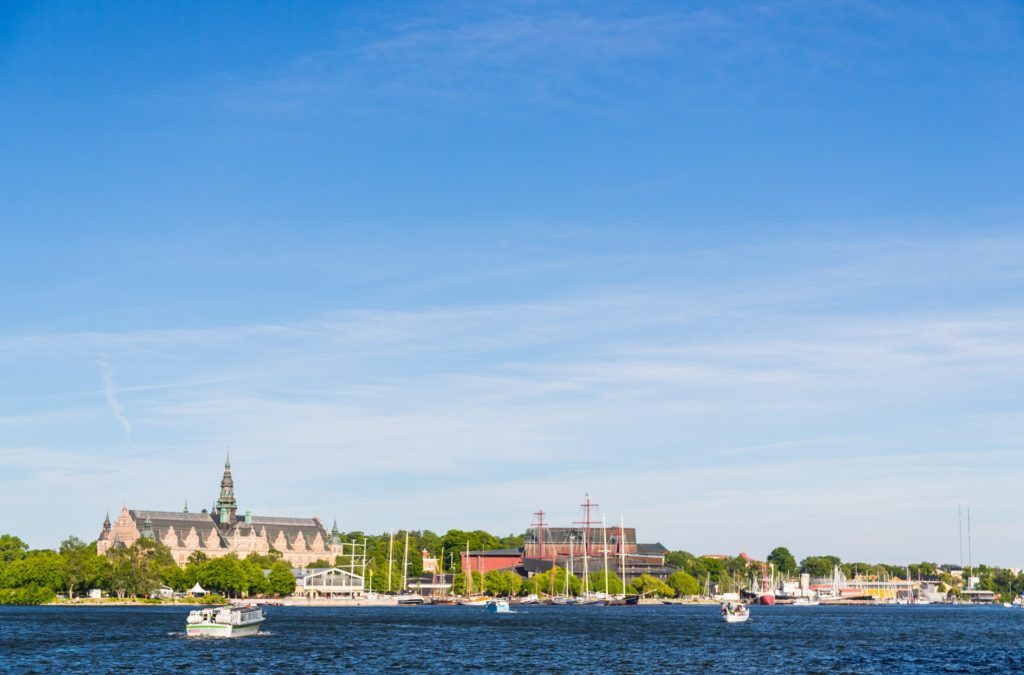 Check out our Sweden Travel Guide.