Unahotels Capotaormina, Taormina
June 13, 2023
Welcome to the enchanting world of UNAHOTELS Capotaormina, a luxurious Italian hotel nestled in the heart of one of the most breathtaking locations in Italy. This exquisite retreat offers a unique blend of comfort, elegance, and natural beauty, making it the ultimate destination for anyone seeking an unforgettable vacation.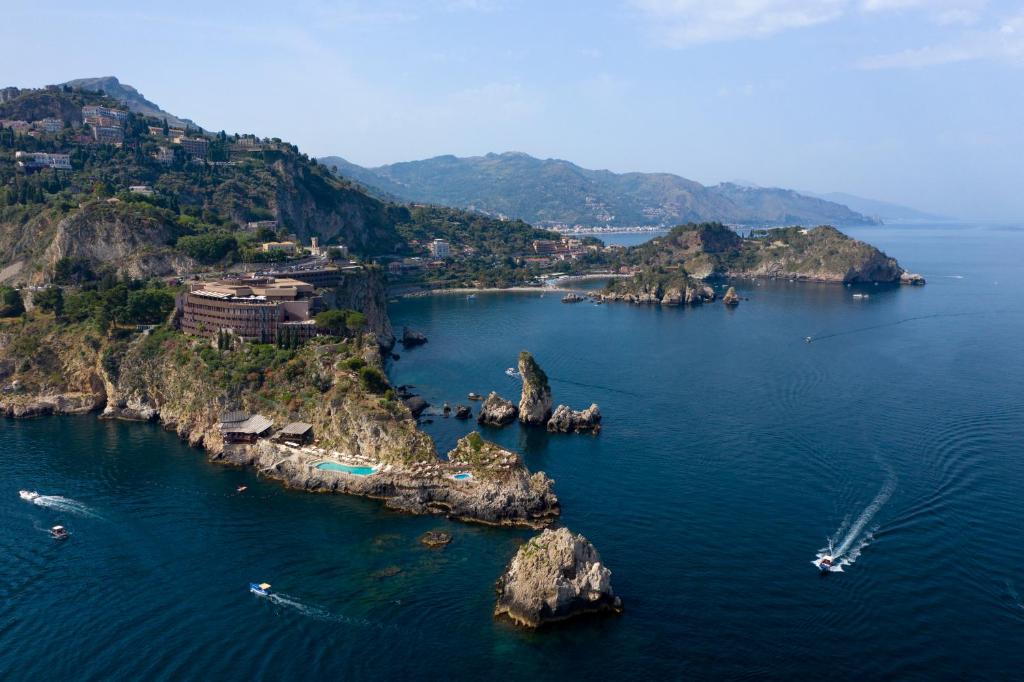 Nestled on a cliff overlooking the mesmerizing waters of the Mediterranean Sea, UNAHOTELS Capotaormina stands as a beacon of luxury and tranquility in the enchanting town of Taormina, Sicily. This five-star hotel is a true haven for discerning travelers seeking an extraordinary retreat that combines elegance, comfort, and breathtaking natural beauty.
From the moment you step foot into UNAHOTELS Capotaormina, you are greeted with impeccable service and a warm Italian welcome. The hotel's stunning architecture seamlessly blends with the surrounding landscape, allowing guests to immerse themselves in the breathtaking views of the sea and the iconic Mount Etna. Each elegantly appointed room and suite offers a private terrace or balcony, providing the perfect spot to unwind and soak in the panoramic vistas.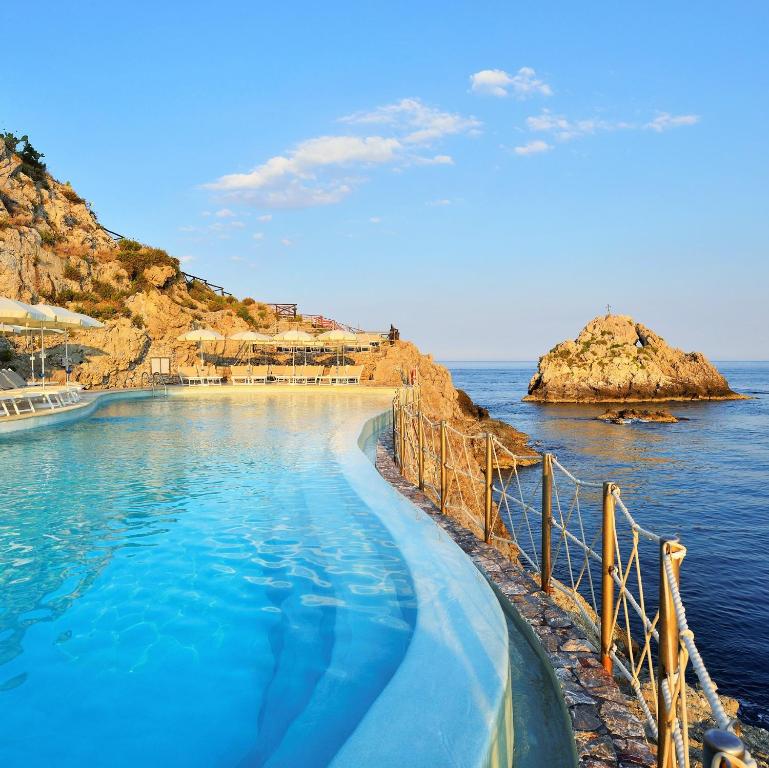 For those seeking relaxation and rejuvenation, the hotel boasts a private beach accessible by a scenic funicular ride. Bask in the sun on the sun-kissed shores, take a refreshing dip in the crystal-clear waters, or simply lounge on a comfortable sunbed while sipping on a refreshing cocktail from the beach bar. The hotel's infinity pool offers another oasis of serenity, allowing guests to indulge in a leisurely swim while gazing out at the azure horizon.
Culinary delights await at UNAHOTELS Capotaormina's exquisite restaurants. The hotel's main restaurant, "Naxos," serves up a symphony of flavors, showcasing the finest Sicilian and Mediterranean cuisine. From freshly caught seafood to locally sourced produce, each dish is a masterpiece of taste and presentation. The terrace restaurant, "Scirocco," offers an intimate setting for romantic dinners with its panoramic views and delectable gourmet offerings.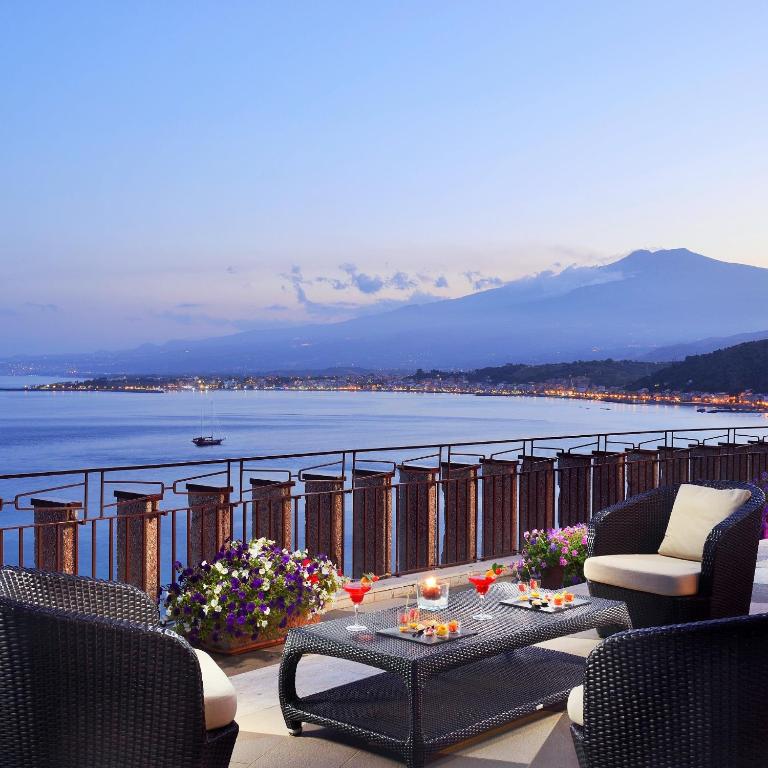 For those seeking holistic well-being, the hotel's wellness center provides a range of indulgent treatments and therapies, including massages, facials, and body scrubs. Immerse yourself in the soothing ambiance, unwind in the sauna, or pamper yourself with a blissful spa experience. UNAHOTELS Capotaormina is also an ideal destination for hosting unforgettable events and weddings. With its picturesque setting and impeccable service, the hotel ensures that every occasion is truly magical and memorable.
UNAHOTELS Capotaormina's architecture is a harmonious fusion of traditional Sicilian design elements and modern luxury. The hotel's terraced structure, built into the cliffside, boasts stunning views of the Ionian Sea and the picturesque town of Taormina below. The interior decor is a tasteful combination of warm earth tones, elegant furnishings, and contemporary finishes, creating a welcoming atmosphere for guests.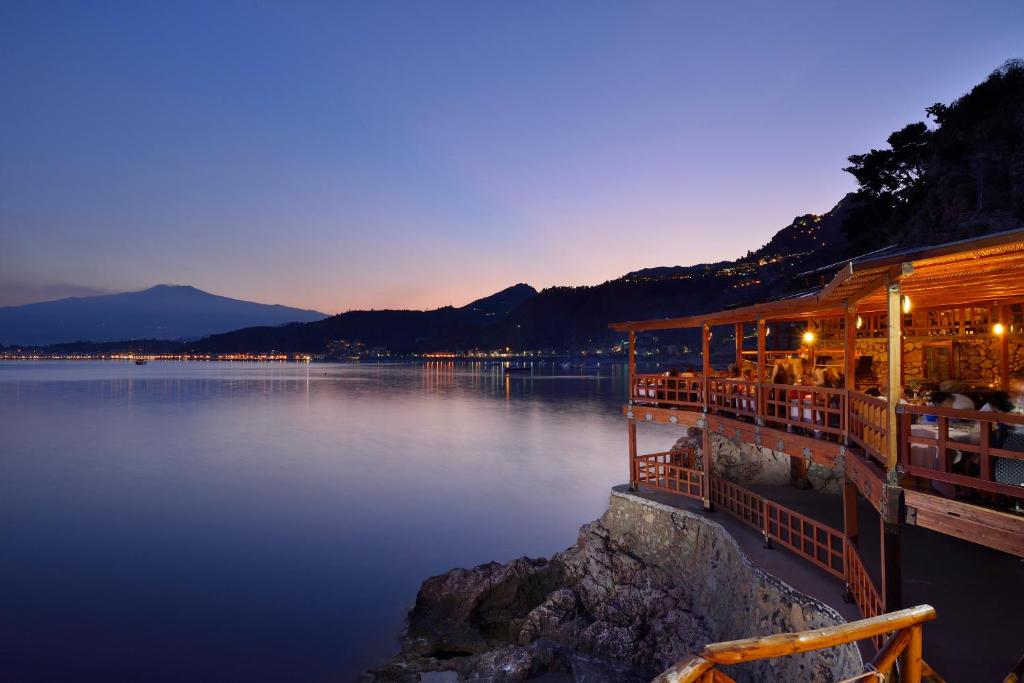 Taormina is a captivating gem nestled on the northeastern coast of Sicily, Italy. With its enchanting blend of history, culture, and breathtaking scenery, Taormina is a must-visit destination for any traveler seeking an unforgettable experience. This idyllic town is renowned for its ancient Greek theater, offering visitors a chance to step back in time and witness performances against a backdrop of sweeping views of the Mediterranean Sea. From strolling along the charming cobblestone streets lined with vibrant bougainvillea to exploring the medieval architecture and stunning gardens, Taormina exudes an undeniable charm that leaves a lasting impression on all who visit.
Aside from its historical and architectural wonders, Taormina boasts some of the most stunning beaches in Italy. The crystalline waters of Isola Bella and Mazzarò beckon sun-seekers and water enthusiasts alike, providing the perfect setting for relaxation and rejuvenation. For adventure seekers, hiking up to Mount Etna, Europe's largest active volcano, is an awe-inspiring experience that offers panoramic vistas of the surrounding landscape. Taormina's delightful culinary scene also entices visitors with its mouthwatering Sicilian cuisine, blending traditional flavors with modern twists. With its irresistible blend of natural beauty, cultural richness, and gastronomic delights, Taormina truly embodies the essence of an unforgettable Mediterranean getaway.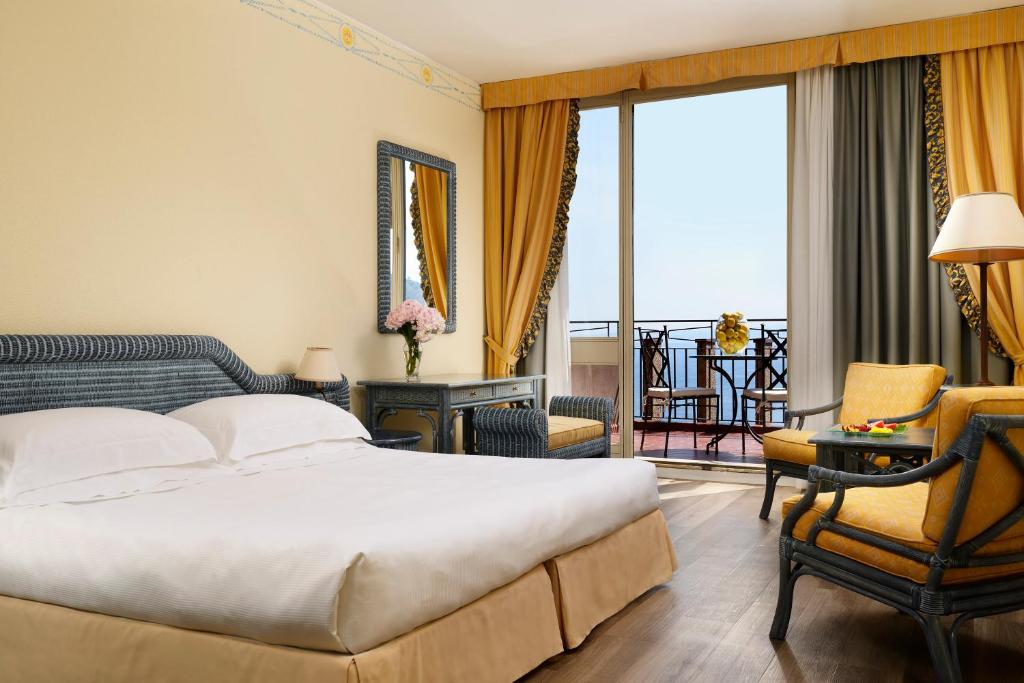 Check out our Italy Travel Guide.