A weekend in Hossegor
September 28, 2023
A weekend in Hossegor means a break with surfing, relaxation on golden beaches and gastronomic discoveries in this jewel of the Atlantic coast.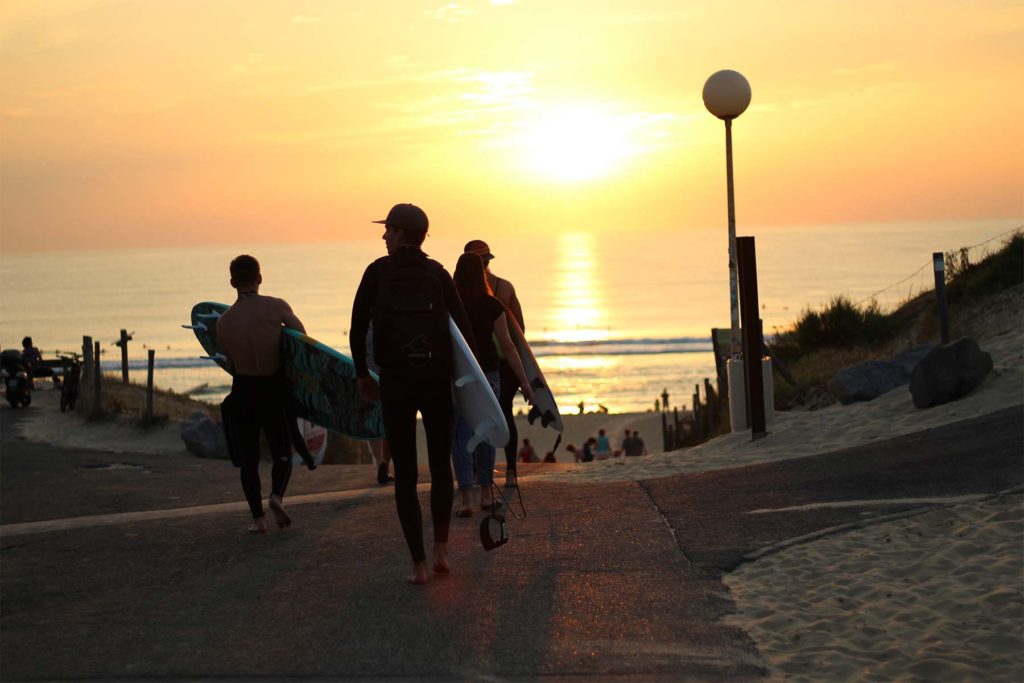 Going to Hossegor – Landifornia
Hossegor, located on the Atlantic coast of south-west France, is an enchanting tourist destination offering the perfect combination of golden sandy beaches, world-class waves and a relaxed atmosphere. This popular seaside resort is a true paradise for surf enthusiasts, attracting surfers from all over the world for its legendary waves. But there's more to Hossegor than surfing. Visitors can enjoy long walks along the beach, sunbathing sessions and refreshing dips in the ocean. For those who prefer nature, the surrounding pine forests offer excellent hiking and biking opportunities. Local markets abound with regional produce, allowing travelers to sample the delights of Basque cuisine. Hossegor is also renowned for its friendly atmosphere, perfect for relaxing with a glass of local wine in one of the many seaside bars and restaurants.
A must-see experience in Hossegor is to attend a world-class surfing competition, such as the Quiksilver Pro France, held every year on the town's famous beaches. Golf enthusiasts will be delighted by Hossegor's golf course, one of the oldest in Europe, offering exciting challenges amid spectacular natural scenery. For total immersion in Basque culture, visit the nearby village of Capbreton to sample traditional tapas and fresh seafood in the quaint little restaurants along the harbor. Whatever your interests, Hossegor promises an unforgettable vacation by the ocean, combining adventure, relaxation and discovery of Basque culture.
Where to sleep – Hotels in Hossegor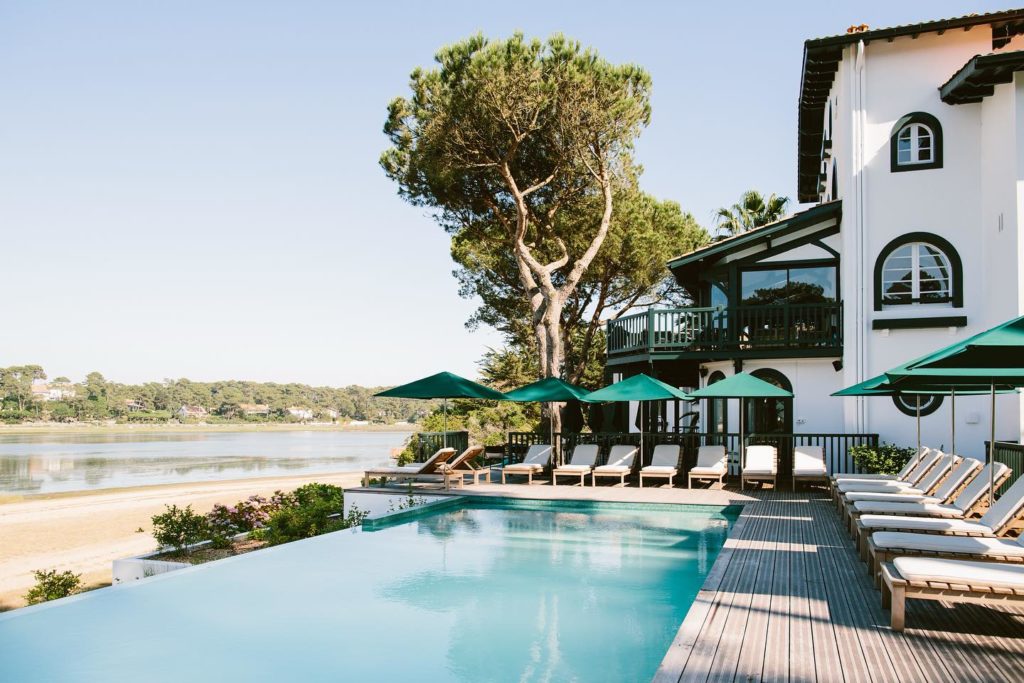 Les Hortensias du Lac
Located in the heart of the elegant seaside town of Hossegor, Les Hortensias du Lac stands out as a true haven of peace and sophistication, offering an unrivalled stay experience. Nestled on the shores of the picturesque Lac d'Hossegor, just steps away from world-renowned surf beaches, this hotel is France's first luxury Surf Lodge, combining comfort, style and natural beauty in sublime fashion.
The hotel's elegant exterior contrasts with an interior that harmoniously blends classic and contemporary elements, creating an ambiance of relaxed luxury in each of its 25 beautifully decorated rooms. Hotel amenities such as a heated swimming pool under the pines, a soothing spa, free WiFi and a restaurant offering breathtaking lake views make this establishment a prime destination for travelers in search of relaxation and refinement. The experience at Les Hortensias du Lac isn't limited to the hotel itself, as guests have the opportunity to explore local attractions such as Lac d'Hossegor and Plage du Rey.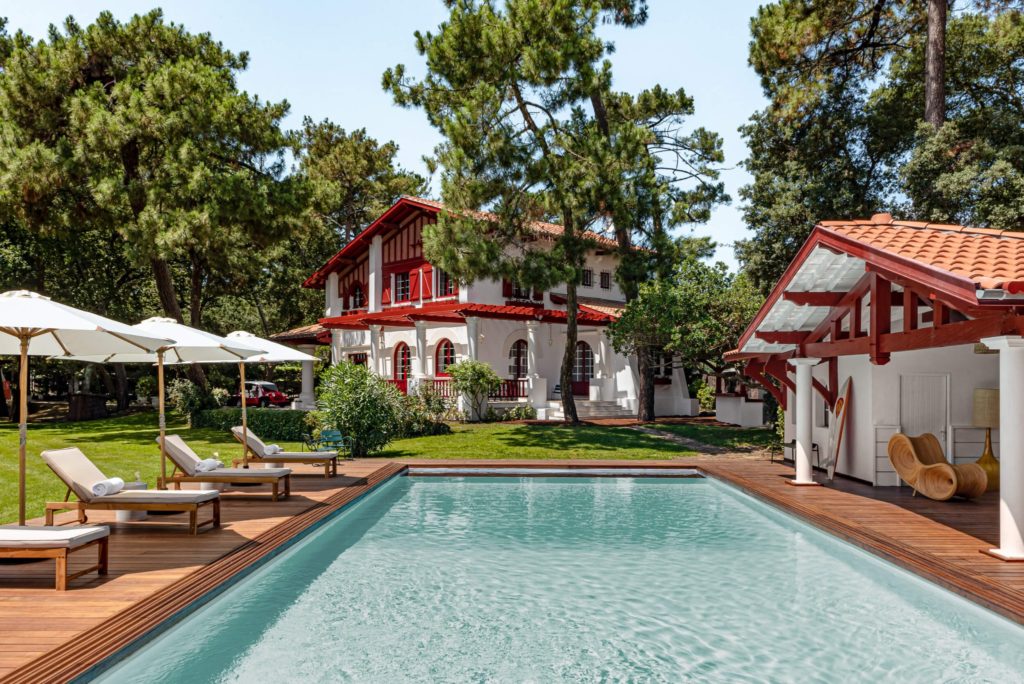 Les Bords du Lac
Welcome to Les Bords du Lac, a rare pearl of tranquility and elegance nestled on the shores of Hossegor's marine lake. This ultra-luxurious beach villa embodies an exceptional getaway that amazes and delights at every turn. Located in the seaside resort of Soorts-Hossegor, just a stone's throw from the Atlantic Ocean, Les Bords du Lac offers a privileged location, surrounded by majestic pine trees and overlooking a peaceful marine lake. This luxury enclave harmoniously blends ocean surfing aesthetics with modern design, creating a unique ambience of relaxed luxury that seduces visitors from the moment they arrive.
This prestigious villa offers world-class facilities, ideal for accommodating up to 12+2 guests, making it the perfect location for family vacations, getaways with friends or corporate retreats. Guests can lounge in the stunning outdoor pool, relax on the sun terrace or explore the surrounding pine forest. What's more, free WiFi is available so guests can stay connected while enjoying their luxurious getaway. Beyond the villa, guests can explore popular attractions such as the Atlantic Ocean and marine lake, while the lively town of Soorts-Hossegor, known as the surfing capital of France, offers a multitude of activities including surfing, sailing and nature walks.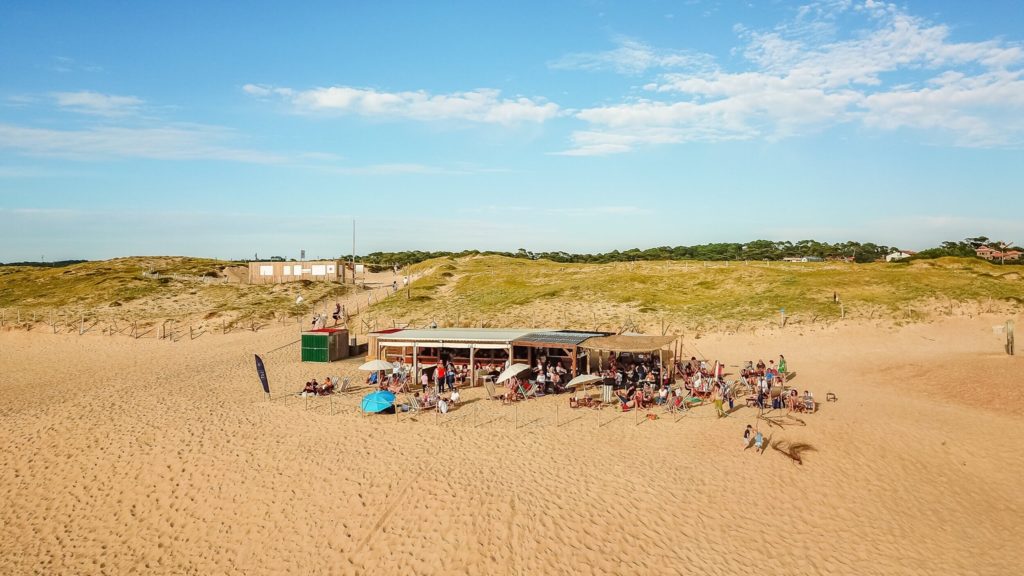 Eating out – restaurants to try in Hossegor
Shack Lou Cabana, Capbreton
This hidden gem is located directly on Capbreton beach, offering a breathtaking view of the Atlantic Ocean1. The relaxed atmosphere and uncluttered decor make it an ideal place to unwind after a day of surfing or swimming. The menu offers a variety of fresh, local dishes, including seafood and grilled fish. Be sure to sample their signature cocktail while admiring the sunset.
Goustut, Hossegor
Located in the heart of Hossegor, Goustut is a gourmet restaurant that revisits traditional French cuisine with a modern twist. The menu, which changes regularly, features local seasonal produce. The atmosphere is warm and friendly, with attentive, professional service. Whether you're coming for a romantic dinner or a family meal, Goustut will win you over with its charm and refined cuisine.
Domaine de la Pointe, Hossegor
If you're a wine lover, Domaine de la Pointe is a must. Situated on a hill overlooking Hossegor, this winery offers panoramic views of the region. You can sample a selection of local wines, accompanied by local cheeses and charcuterie. The atmosphere is relaxed and friendly, making it an ideal place to spend a sunny afternoon.
Jean des Sables
Located on the seafront, this Michelin-starred restaurant offers panoramic ocean views. The cuisine, focused on seafood, is refined and inventive. The ambiance is both elegant and relaxed, making it the ideal place for a special occasion.
Le Napoli
This Italian restaurant is a veritable institution in Hossegor. Renowned for its wood-fired pizzas and homemade pasta, Le Napoli offers an authentic culinary experience in a warm and friendly atmosphere.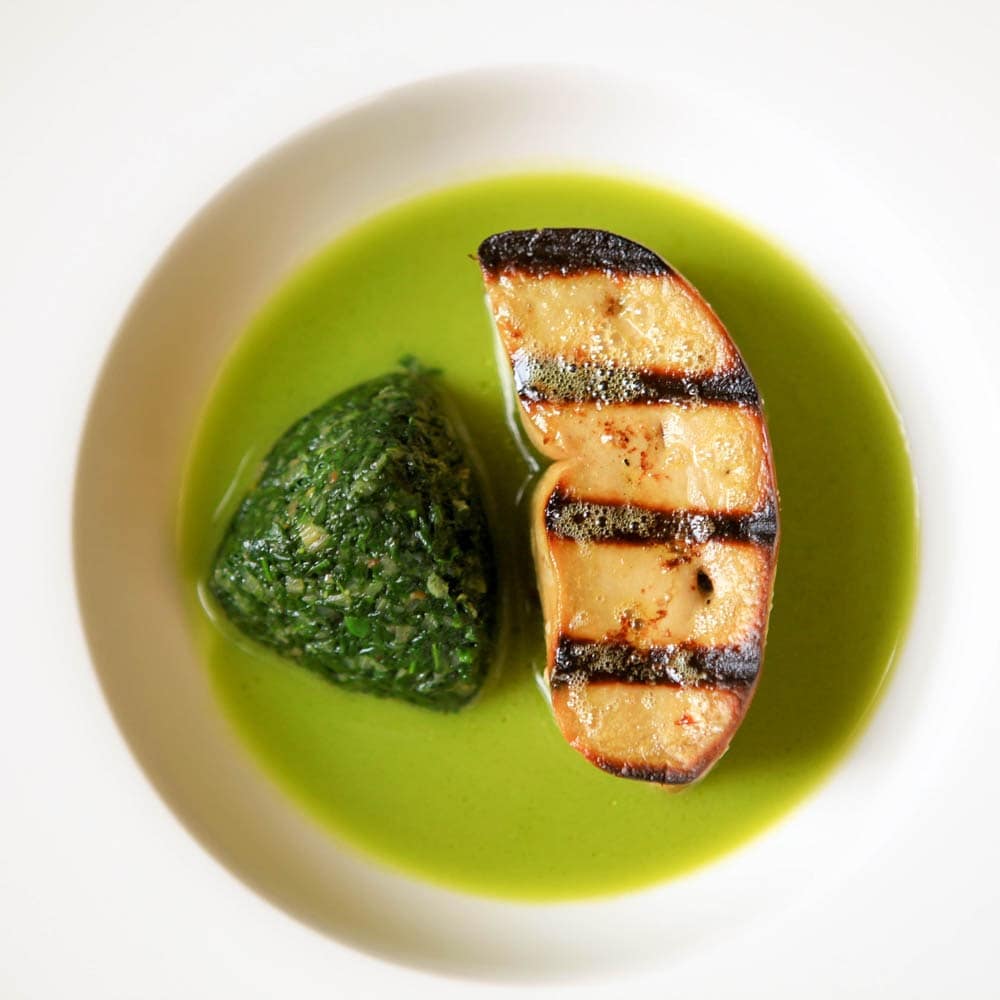 See our other travel ideas.