Caravan by Habitas Agafay, Morocco
October 4, 2023
Caravan by Habitas Agafay: A Luxurious Oasis Amidst the Moroccan Desert. Nestled amidst the rocky dunes of the Agafay desert, Caravan by Habitas Agafay emerges as an enchanting oasis that offers an immersive experience in the heart of Morocco. The hotel is located just a 45-minute drive from Marrakech, making it an ideal destination for those seeking an escape from the bustling city life.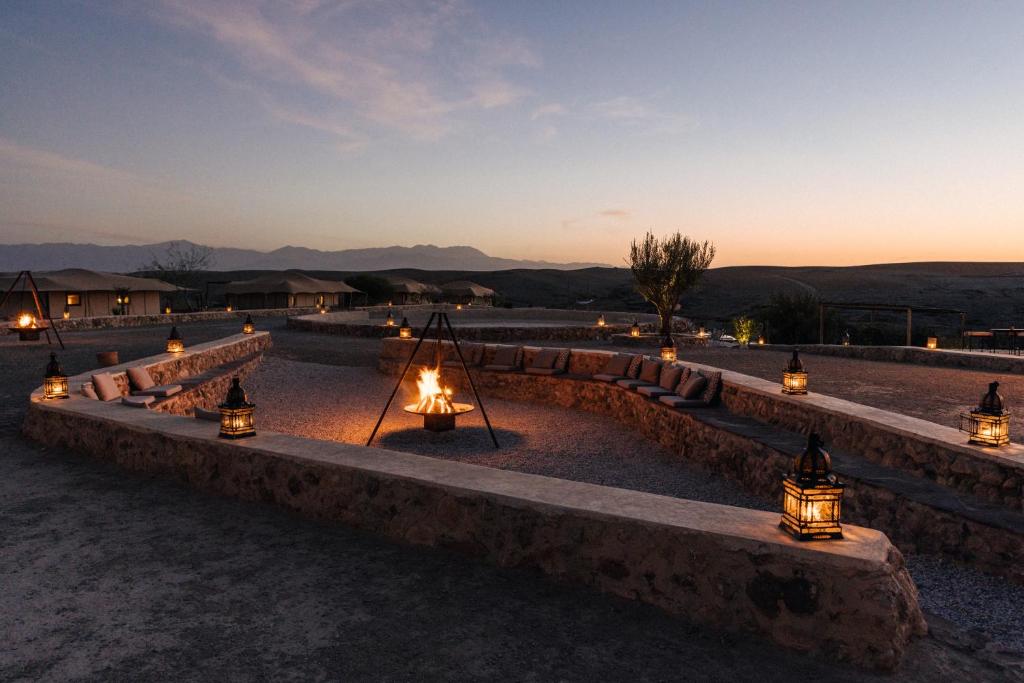 As you approach the Caravan, you are greeted by a stunning vista of luxury tents set against the breathtaking backdrop of the Atlas Mountains and the Sahara's majestic dunes. Each tent, inspired by local culture and nature, is a harmonious blend of traditional Moroccan design and modern aesthetics. Inside, you'll find spacious accommodations adorned with intricate Moroccan rugs, plush furniture, and locally crafted décor elements, promising a comfortable and authentic stay.
Caravan by Habitas Agafay is not just a place to rest your head; it's a space for creative freedom and exploration. The hotel offers a daily program of activities ranging from outdoor yoga sessions to stargazing events, ensuring that every day is filled with new adventures. For the more adventurous, the vast expanse of the Agafay desert is waiting to be explored, whether on foot or via a thrilling 4×4 ride.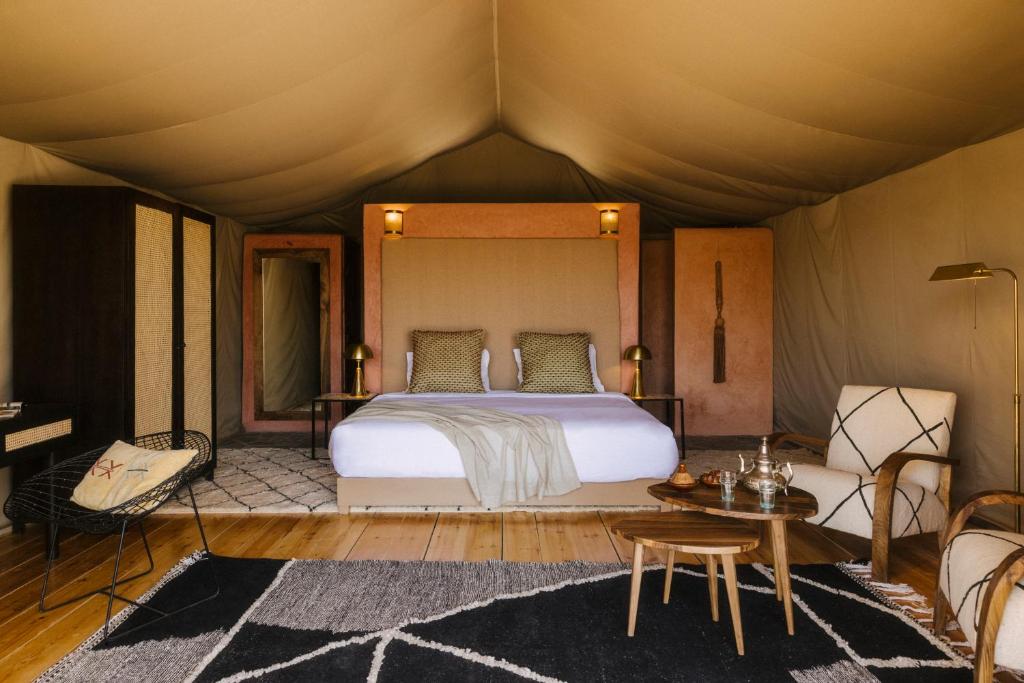 After a day of desert exploration, guests can retreat to the hotel's outdoor swimming pool, a tranquil oasis where you can unwind and soak in the desert's serene beauty. Alternatively, treat yourself to a rejuvenating spa treatment, where expert therapists use locally sourced ingredients to invigorate your senses and restore your well-being.
When it comes to dining, Caravan by Habitas Agafay offers a culinary journey that celebrates the rich flavors of Morocco. The hotel boasts an onsite restaurant where guests can enjoy delicious meals prepared with fresh, local ingredients, all while basking in the stunning desert views. From traditional tagines to international favorites, every dish is a treat for the palate.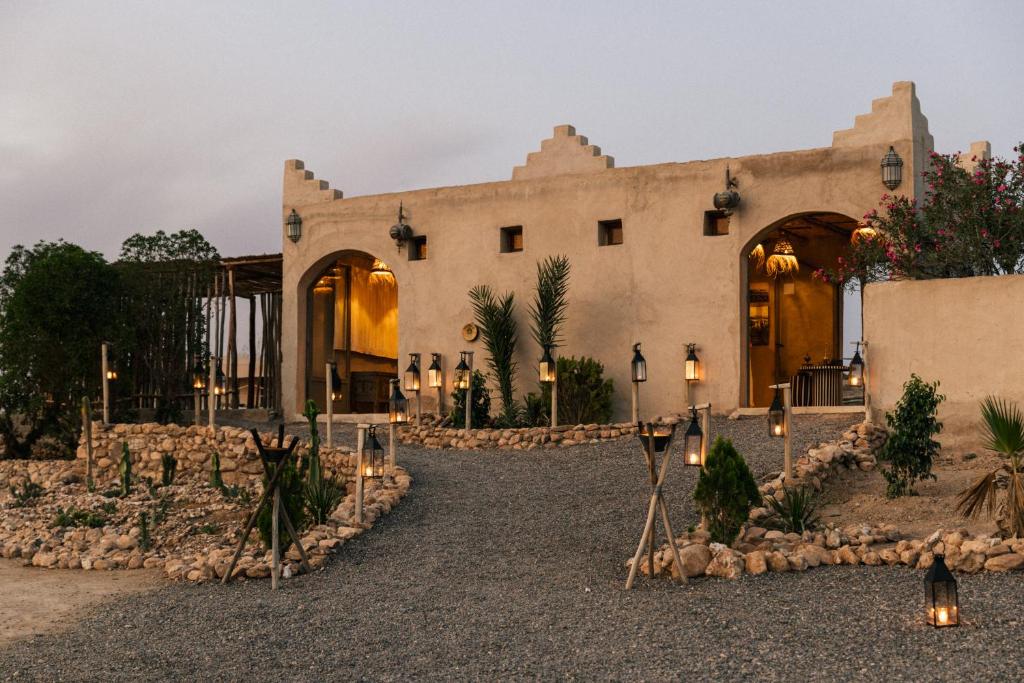 Evenings at Caravan by Habitas Agafay are magical. As the sun sets and the stars begin to twinkle in the clear desert sky, guests can gather around a crackling bonfire to share stories and enjoy traditional music performances. It's these unforgettable moments that make Caravan by Habitas Agafay more than just a hotel; it's a destination where memories are made.
Nestled just a short drive away from the bustling streets of Marrakech lies a desert oasis like no other – the Agafay Desert. While it may not boast the vast sand dunes of the Sahara, Agafay offers a unique and enchanting desert experience that's within easy reach of Morocco's vibrant cultural capital. This serene, rocky desert landscape is a hidden gem, inviting travelers to escape the city's hustle and immerse themselves in the tranquility of Morocco's wild beauty.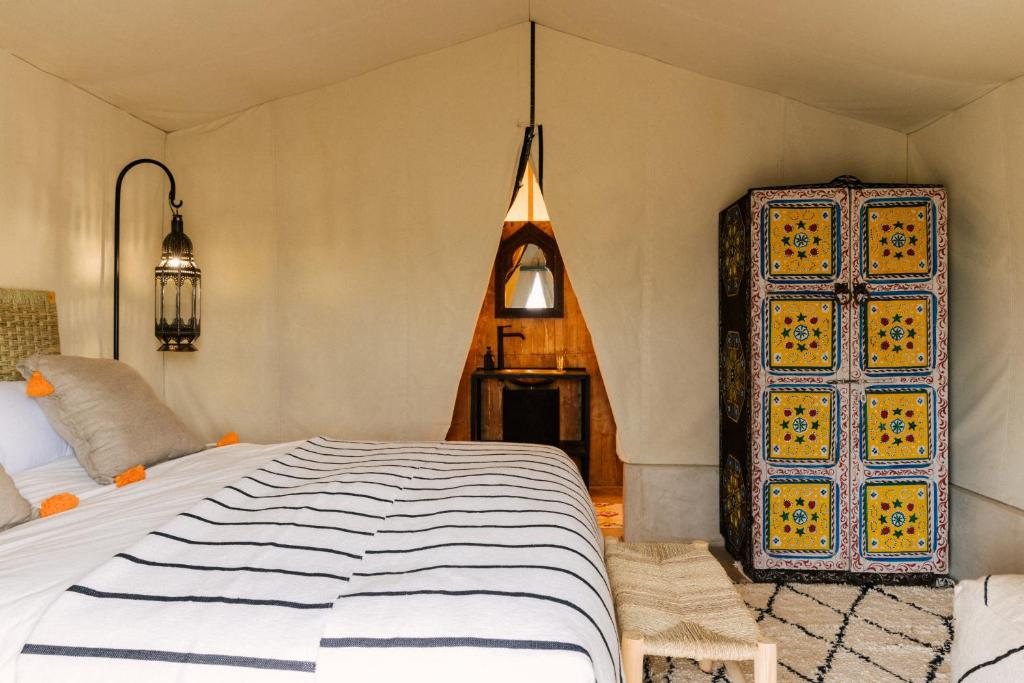 Agafay's rugged terrain, with its rolling hills and barren landscapes, creates a sense of otherworldly charm. It's the perfect destination for adventurers and nature enthusiasts looking to explore a different side of Morocco. Visitors can embark on thrilling off-road excursions, camel rides, or even quad biking adventures across the desert's undulating dunes and arid plateaus. As the sun sets over the horizon, Agafay transforms into a magical setting, with the fading light casting a warm, golden glow over the landscape – a photographer's dream.
One of the most unforgettable experiences in Agafay is spending a night under the stars in a traditional desert camp. These luxurious camps offer comfortable accommodations in well-appointed tents, with traditional Moroccan cuisine served by a campfire. The star-studded sky above the Agafay Desert is a sight to behold, and as the night deepens, the silence and solitude of the desert create an unparalleled sense of serenity. For travelers seeking an authentic and accessible desert adventure, the Agafay Desert near Marrakech is a captivating destination that promises a memorable Moroccan experience.
See also our Marrakech Travel Guide and our selection of the best hotels in Marrakech.