Joali, Maldives
June 29, 2022
Joali Maldives is one of the best hotels in the world, located on a fabulous Island with restricted luxury villas for the peace of each guest.
Located on Muravandhoo Island in the Raa Atoll in the northern Maldives, JOALI, Maldives offers 73 villas and residences on the beach or on stilts, designed with unique stories in mind. The JOALI Spa by Espa offers quality treatments in a setting that evokes its tropical environment. The gym, where professional instructors are on hand, offers an unobstructed view of the turquoise ocean, wildlife and deep green flora.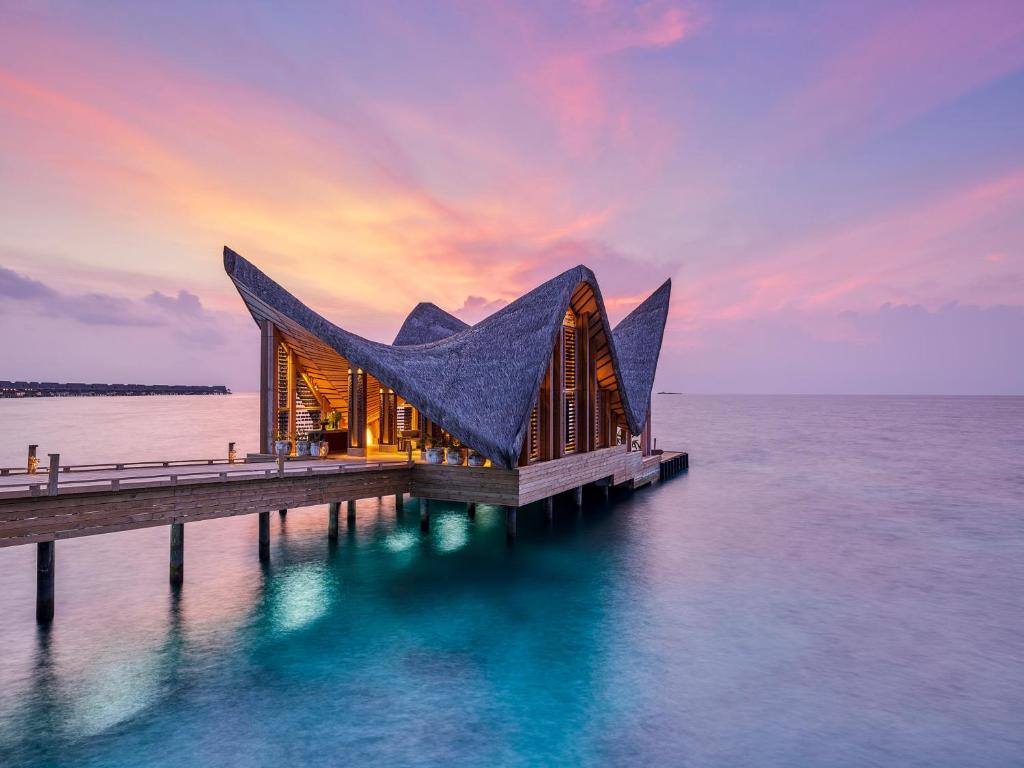 The resort has 4 restaurants serving inventive fusion cuisine. The custom-designed Vandhoo restaurant concocts Southeast Asian, Mediterranean and Oriental flavors. Gourmets will also enjoy a variety of dinner dishes, hearty breakfasts and carefully selected wines from the wine cellar. At the Her Kitchen, they will enjoy a personalized culinary experience and learn to cook and taste local Maldivian recipes.
Designed by Japanese architect Noriyoshi Muramatsu, the Saoke restaurant features Kotatsu seating and an elegant lounge where you can enjoy Nikkei cuisine. At the Italian restaurant, a true transalpine island in the heart of the Maldives, you can enjoy a Bellini as an aperitif, classic pasta dishes, and a Grappa as an after-dinner drink. Finally, the Mura Bar features cabanas and tables overlooking the white sandy beach and the glistening ocean.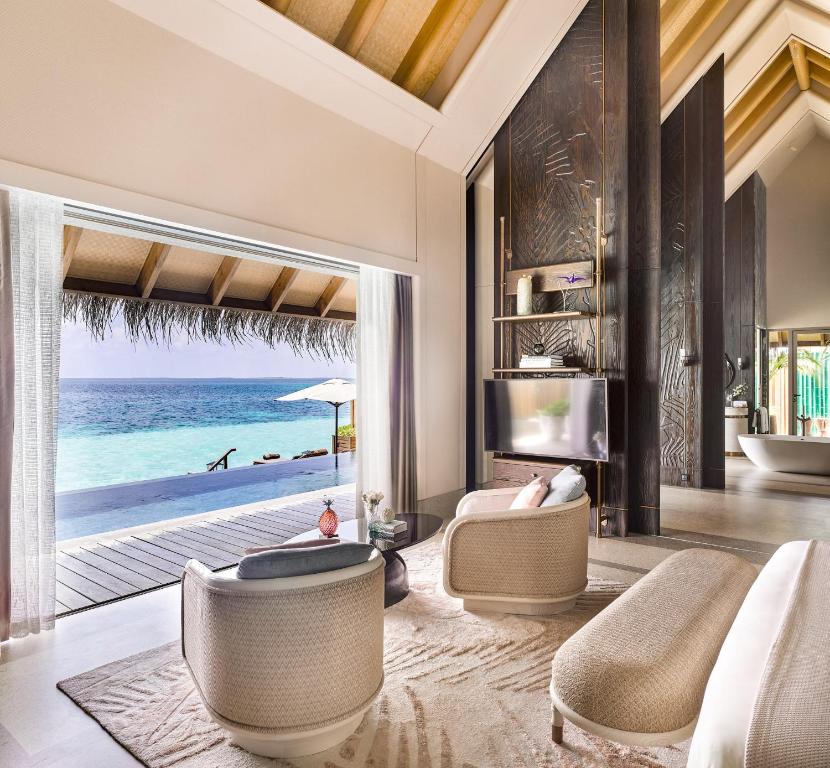 Surrounded by the ocean and lush landscapes, JOALI can arrange activities such as snorkeling for manta rays, visiting an underwater museum to learn about coral degradation, wakeboarding, yacht or dhoni tours, or meeting with local communities. With an art map of the hotel, you'll discover the island's art and sculpture in a treasure hunt of unique artworks designed especially for the Joali.
JOALI Maldives has many features, including a complimentary buffet breakfast, an adjoining winery, and a mid-pool bar. With a private beach, beachside restaurant and complimentary beach cabanas, this resort is the perfect place to soak up the sun. Pamper yourself with an aromatherapy treatment, reflexology treatment or body treatment at the on-site spa, Spa by ESPA. Vandhoo, an on-site restaurant offering local and international cuisine, offers garden views and light fare. The fitness center offers aerobics and Pilates classes; other activities include yoga, eco-tours and scuba diving. Free in-room Wi-Fi is available to guests, as well as amenities such as a poolside bar and sundeck.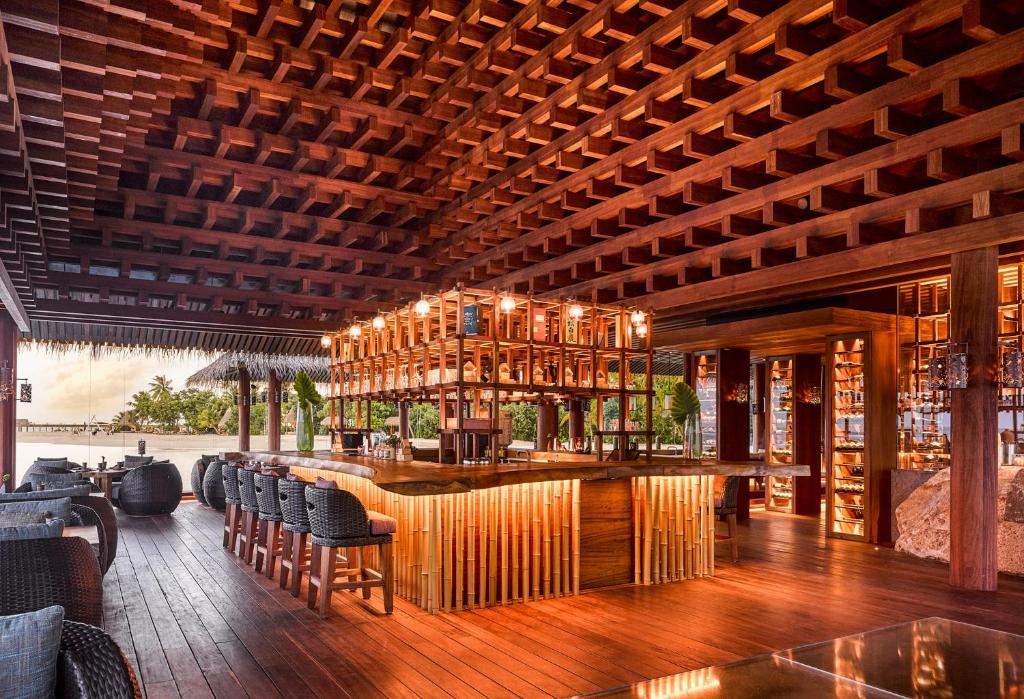 The 73 rooms, which feature custom furnishings, come with such comforts as 24-hour room service and a private pool, in addition to other perks, including premium bedding and a range of pillows to choose from.
This property is part of the EarthCheck program, a program that measures the property's impact on one or more of the following: the environment, the community, the cultural heritage and the local economy.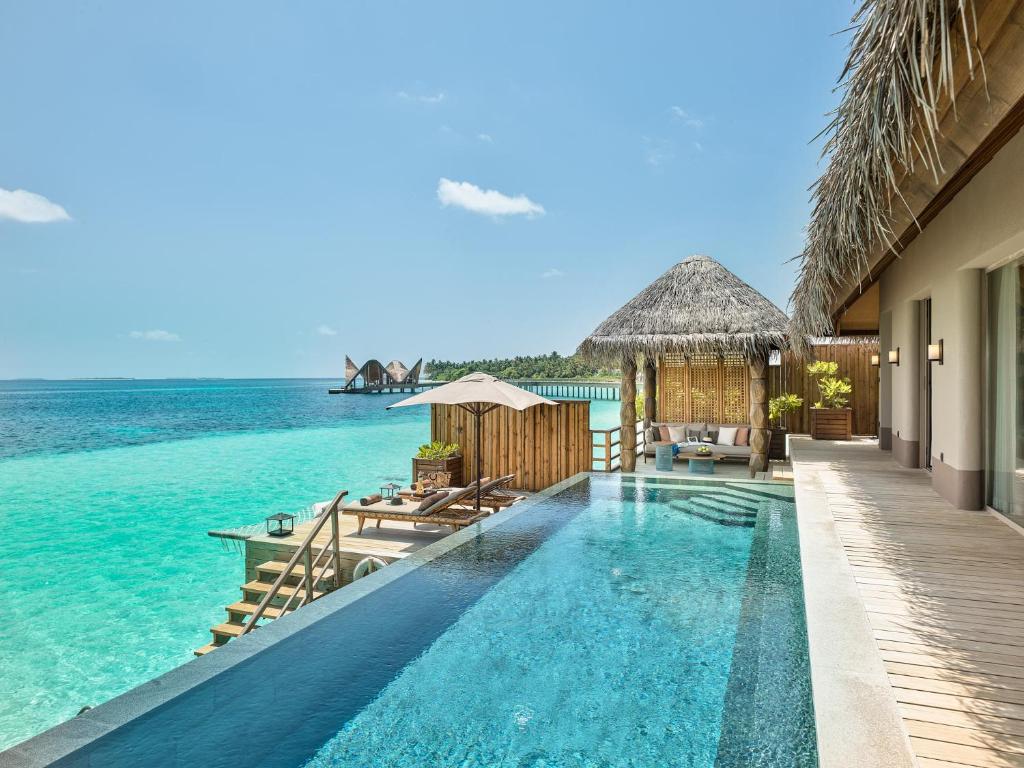 This is one of the best hotels in the world.