Nobu Hotel, Marrakech
March 24, 2023
Nobu Marrakech is a luxurious hotel and restaurant located in the Hivernage district of Marrakech, offering a fusion of Japanese and Moroccan cuisine.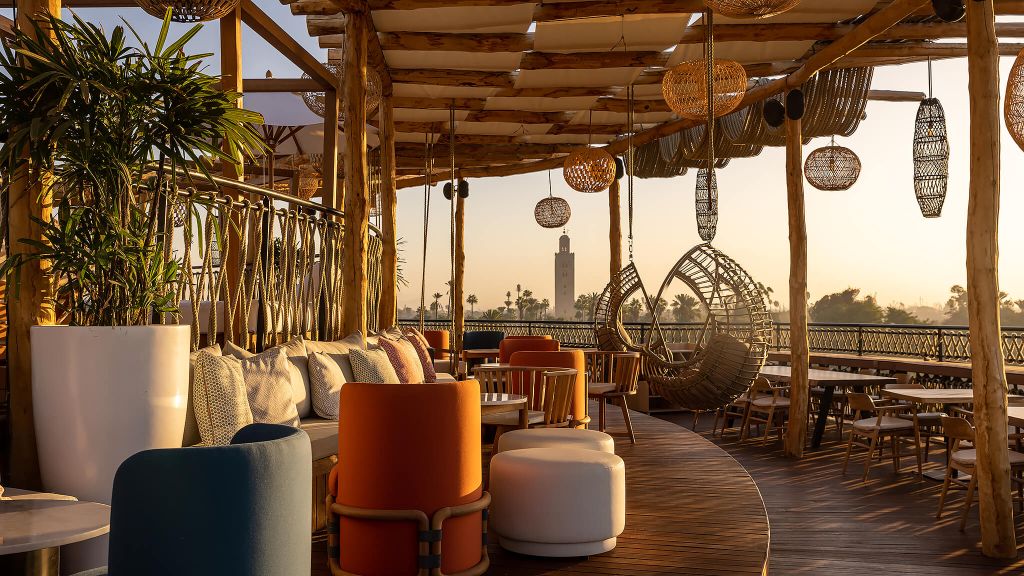 The all-suite Nobu Hotel Marrakech offers rich heritage and contemporary flair in the city's trendy 'Golden Triangle,' with a world-class restaurant and a buzzing nightlife scene. From this perfectly located lifestyle hotel, you can explore one of the world's great capital cities.
The iconic Nobu brand has arrived in Marrakech, marking the first foray into Africa for the American hospitality group. The hotel is located in the city's Golden Triangle, just steps from historic souks and the lively Medina and Djemaa el-Fna squares. Upon arrival, it's clear that Nobu Marrakech is deeply rooted in the neighborhood, fusing traditional Moroccan craftsmanship with all the modern flourishes one would expect from one of the world's leading hotels.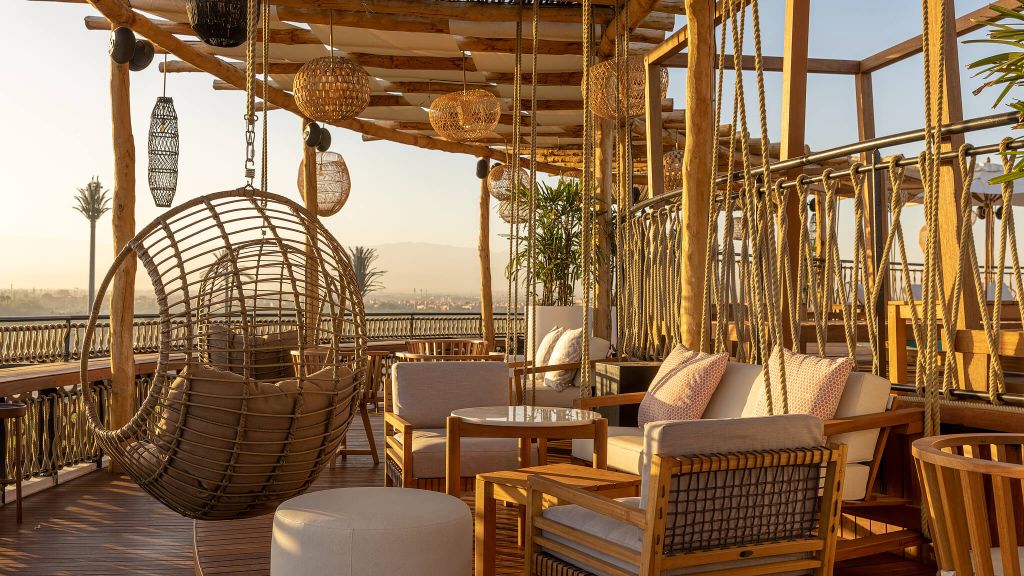 Nobu Hotel Marrakech's 71 spectacular guest suites offer views of the Atlas Mountains or the city's Koutoubia Mosque. Within, modern design and bold Japanese prints create a welcoming atmosphere. Among the amenities available to guests are Natura Bisse amenities, complimentary Wi-Fi Internet, Smart TVs, robes, and slippers. Consider the penthouse Nobu Suite, which has two king bedrooms, two spacious marble bathrooms, and a wraparound veranda.
If Nobu Hotels have a unifying theme, it's the creation of memories centered on the enjoyment of world-class cuisine. In Marrakech, the beloved Nobu menu delivers in trademark style, sporting signature dishes like Black Cod Miso, Rock Shrimp Tempura, and Yellowtail Sashimi with Jalapeno. The Nobu Bar and Lounge is located next to the restaurant and serves light bites as well as signature, handcrafted cocktails.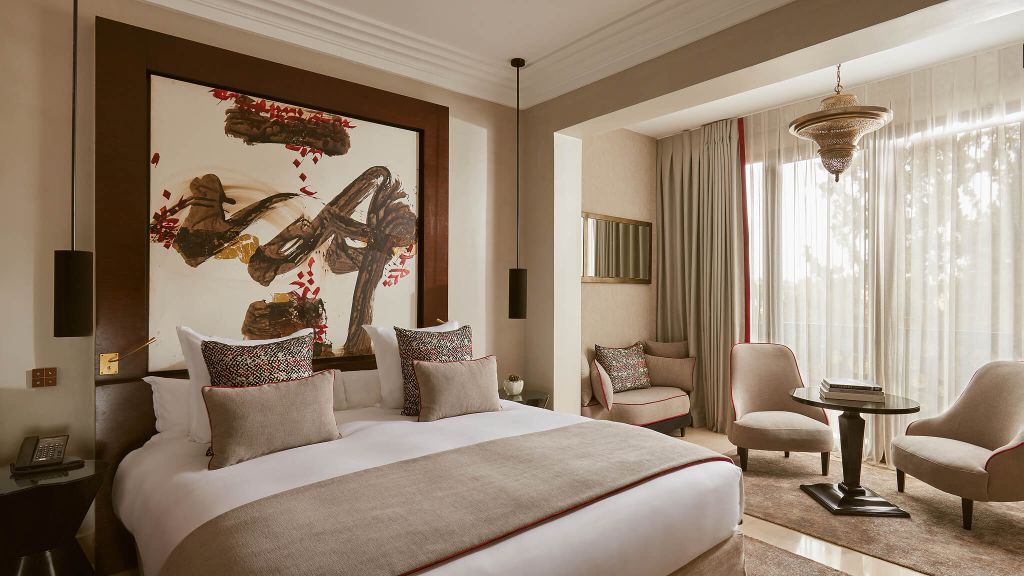 Nobu Marrakech comes alive at night, with the breathtaking Rooftop Garden paying homage to a beach club. Enjoy panoramic views of the city and mountains while relaxing in the all-season pool and cabanas, as well as the relaxed dining and bar areas. This exclusive setting also frequently hosts internationally renowned DJs and local artists who play hits until the early hours of the morning.
Marrakech is a city that begs to be explored, with captivating sights at every turn. After a day of pounding the pavement in search of the perfect Instagram shot, head to The Pearl Spa for a relaxing experience. The spa spans 2,000 square meters and includes 14 private treatment suites, a subterranean mosaic pool, and a private hamman area. Guests can choose between signature Nobu treatments inspired by Japanese traditions and traditional Moroccan treatments utilizing local and international organic brands.
Explore the Medina and Jema el-Fnaa square. Medina, the old city of Marrakech, and Djemaa el-Fnaa, its central square, are two of the most popular tourist destinations in Morocco. Medina is a UNESCO World Heritage site and is famous for its winding alleyways, bustling souks, and stunning architecture, including the iconic Koutoubia Mosque. Visitors can also explore historic palaces, gardens, and museums, and sample traditional Moroccan cuisine in the many restaurants and cafes.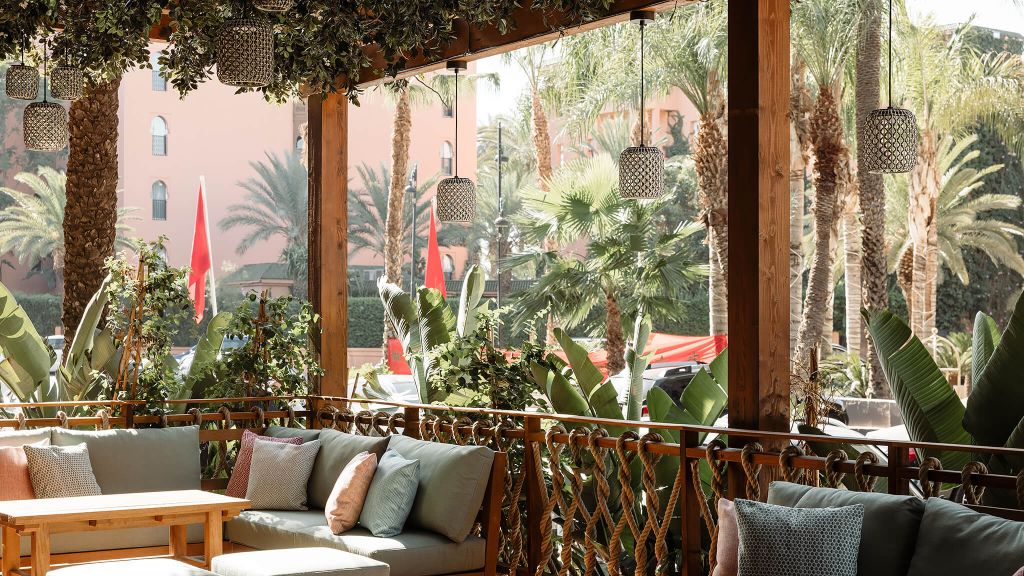 Djemaa el-Fnaa is the vibrant heart of Marrakech and is particularly busy in the evenings when street performers, musicians, and storytellers come out to entertain crowds of locals and tourists alike. Visitors can also sample delicious street food, shop for souvenirs in the many stalls and shops, and take a horse-drawn carriage ride around the square. The atmosphere is truly magical, and Djemaa el-Fnaa is a must-visit destination for anyone traveling to Marrakech.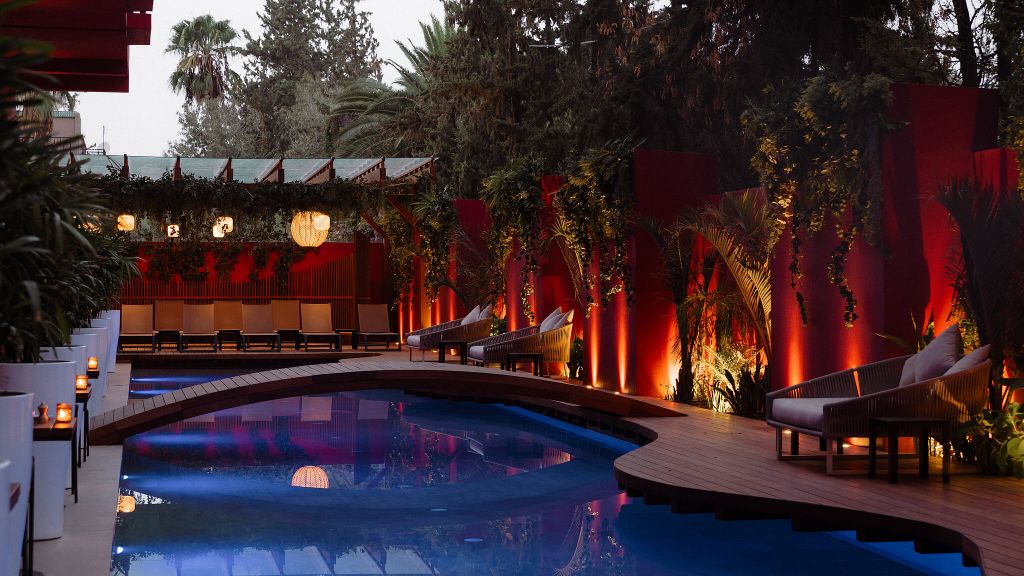 –
Check out our selection of the best hotels in Africa
Read our Marrakech Travel Guide