Palais Du Desert Hotel & Spa, Erfoud
October 25, 2023
Welcome to the Palais Du Desert Hotel & Spa, a luxurious castle-style retreat nestled on the outskirts of Erfoud, Morocco. This enchanting hotel is more than just a place to rest your head; it's a destination that promises to take you on a journey through time and luxury. Sitting majestically at the gates of Erfoud, close to the soothing palm grove, the hotel is a testament to Morocco's rich heritage combined with modern elegance. Its unique location offers guests a tranquil haven away from the bustling city life yet within easy reach of local attractions.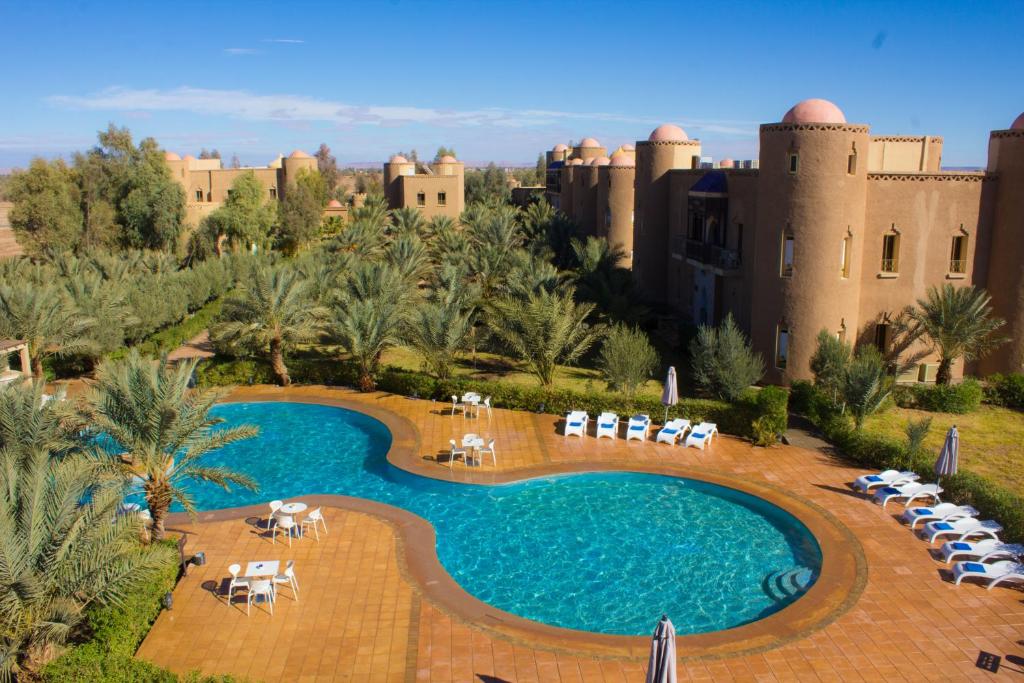 The architecture of the Palais Du Desert Hotel & Spa is nothing short of breathtaking. Echoing the design of a traditional Moroccan palace, the hotel features intricate carvings, bold geometric patterns, and vibrant colors that reflect the country's rich cultural tapestry. The décor elements are carefully selected to enhance the opulent ambiance, with plush furnishings, ornate lanterns, and rich fabrics adorning every corner.
With its world-class amenities, the hotel ensures that guests experience the pinnacle of comfort and luxury. From the moment you step into your room, you will be enveloped in an oasis of tranquility and elegance. Each suite offers stunning views of the surrounding landscape, coupled with modern amenities for a truly relaxing stay.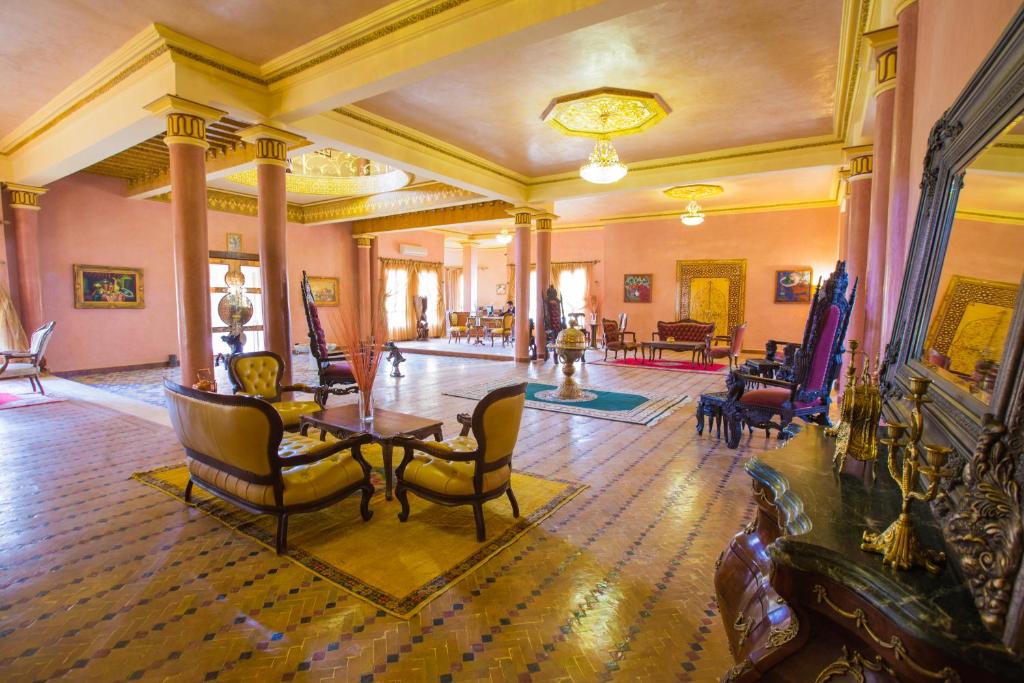 But the Palais Du Desert Hotel & Spa offers more than just luxurious rooms. It's also a gastronomic delight, offering a variety of dining options. Whether you're craving traditional Moroccan cuisine or international dishes, the hotel's dining room has something to satisfy every palate. And with buffet dinners served in an elegant setting, dining here is an experience in itself.
For relaxation and rejuvenation, the hotel boasts a spa that offers a range of treatments designed to soothe your senses and revitalize your spirit. There are also a couple of swimming pools, perfect for a refreshing dip after a day of exploring the local area.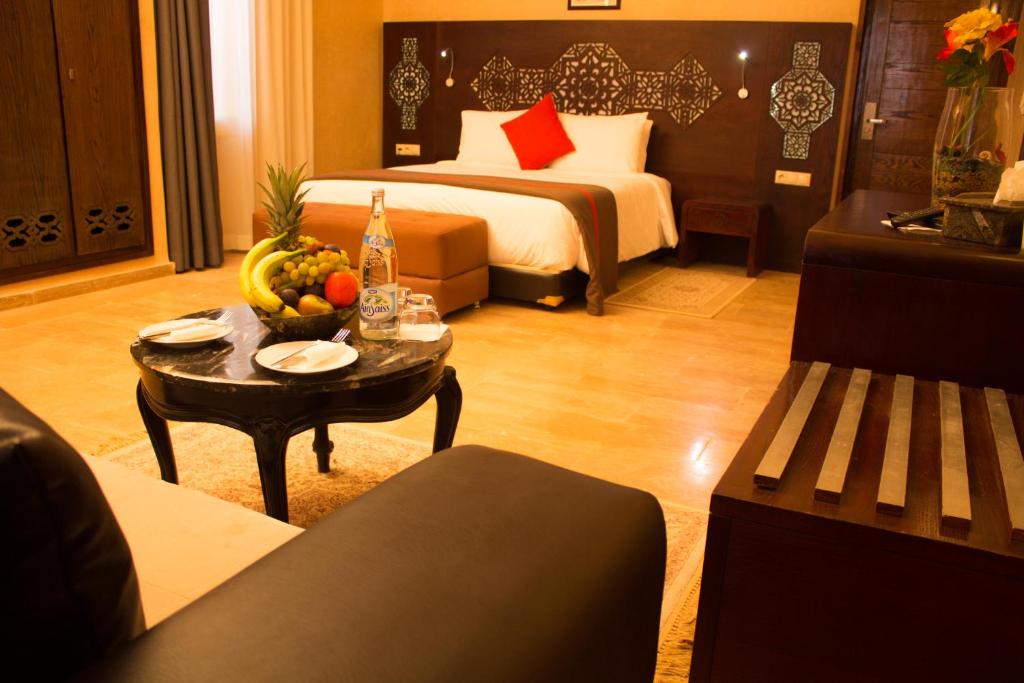 The hotel's unique location makes it an ideal base for exploring the stunning natural beauty of Erfoud. From the lush palm groves to the mesmerizing dunes of Merzouga/Erg Chebbi, guests can indulge in a variety of outdoor activities.
Erfoud, a hidden gem in the heart of Morocco, beckons travelers with its captivating blend of desert mystique and rich cultural heritage. Nestled on the edge of the Sahara Desert, this enchanting town is a gateway to an otherworldly landscape that has fascinated adventurers for centuries. As you venture into Erfoud, you'll be transported to a land of towering sand dunes, where the mesmerizing play of light and shadow creates an ever-shifting tableau.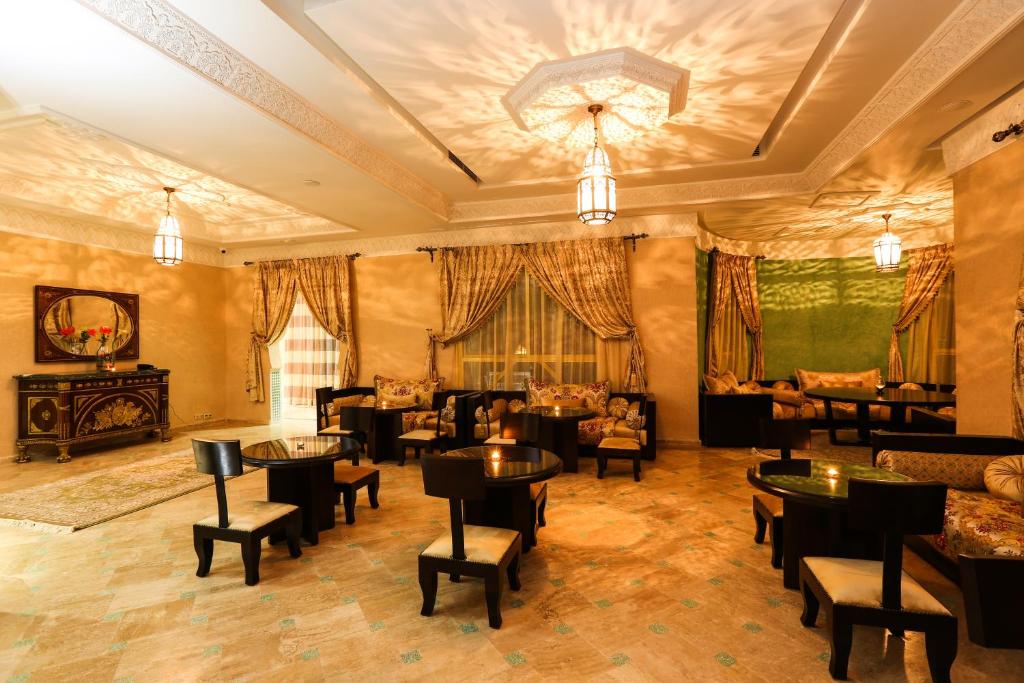 Erfoud is renowned for its proximity to the vast Erg Chebbi dunes, where you can embark on exhilarating camel treks or thrilling 4×4 desert safaris. Witnessing the sunrise or sunset over these majestic dunes is an awe-inspiring experience that will leave an indelible mark on your memory. For those interested in Morocco's rich heritage, the town offers an opportunity to explore its vibrant markets, known for their unique fossils and handicrafts. And don't miss the chance to savor the exquisite Moroccan cuisine in Erfoud's traditional restaurants, where aromatic tagines and couscous dishes await. Erfoud invites you to immerse yourself in the magic of the desert and the warmth of its people, making it an unforgettable destination for travelers seeking adventure and cultural discovery in Morocco.
Check out our selection of the best hotels in Morocco.