The best hotels in Rome
March 14, 2023
Rome is a city steeped in history and culture. From its world-renowned ruins to its luxurious lifestyle, this Italian city has something to offer everyone. But for those who want to experience Roman luxury in all its glory, there are plenty of options for a truly special getaway.
Travelling in Rome
A great way to start your luxury exploration is by taking a tour of some of Rome's most iconic sites. Visit the Colosseum, marvel at the Pantheon, explore the Forum and take in the beauty of St. Peter's Square in person – these are just some of the must-see attractions that will have you dreaming about your time in Rome long after your visit.
After immersing yourself in Roman history, it's time to indulge with some fine dining experiences. From traditional trattorias serving up classic Italian recipes to trendy spots offering modern takes on Mediterranean cuisine, you won't be short on places to eat out while experiencing Rome's culinary delights.
For those looking to add some pampering into their luxury travels, spas are plentiful throughout Rome. Spend a day at a luxurious spa being treated like royalty with massages and other treatments that will leave you feeling truly refreshed and rejuvenated. And if shopping is more your thing, there are plenty of boutiques stocked with designer items that make it easy to find the perfect souvenir or gift for someone special back home.
Rome isn't just about culture and history; it is also one of Europe's most romantic cities for couples seeking a romantic getaway together. Spend an evening strolling along cobbled streets illuminated by street lamps at night or have dinner under the stars with views of historic monuments like The Trevi Fountain – these are just some ideas for romantic activities that will set your hearts fluttering during your stay in Rome.
No matter what type of traveller you may be – from luxury seekers to budget travellers – there's something for everyone in this timeless Italian city! So come experience all that Rome has to offer – from its ancient monuments to its gourmet dining and luxurious spas – when planning your next trip!
The best hotels in Rome
Hotel de Russie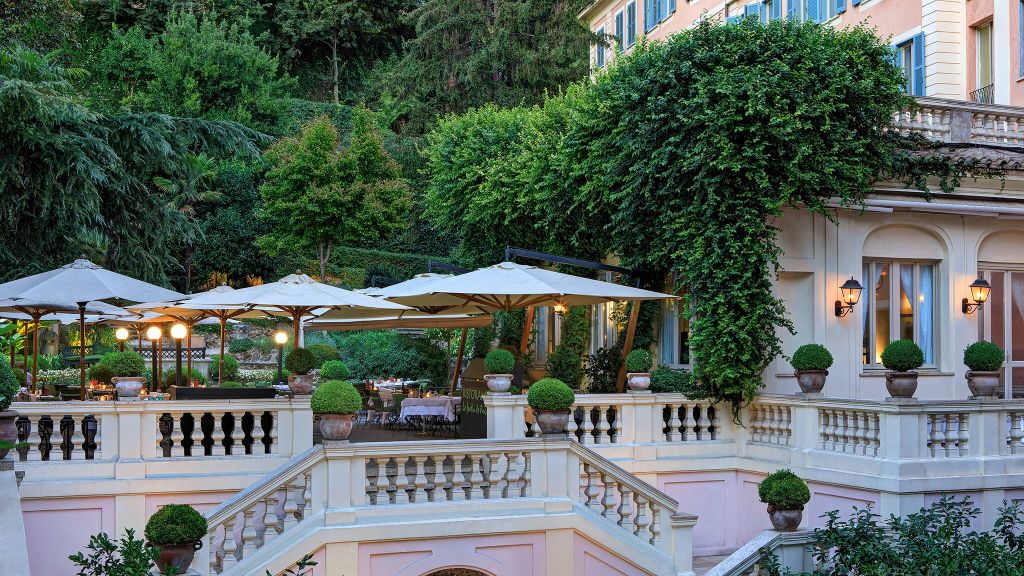 At the Hotel de Russie in Italy, travellers will find a blissful retreat, including excellent spa facilities and plenty of room to explore. As you wander through the sumptuous gardens of the Hotel de Russie, you'll find it hard to believe you're in the middle of hectic Rome. Here, you can dine al fresco at Le Jardin de Russie, or just rest under the trees after a day visiting the Colosseum or Vatican City (both, by the way, within walking distance).
Hotel de la Ville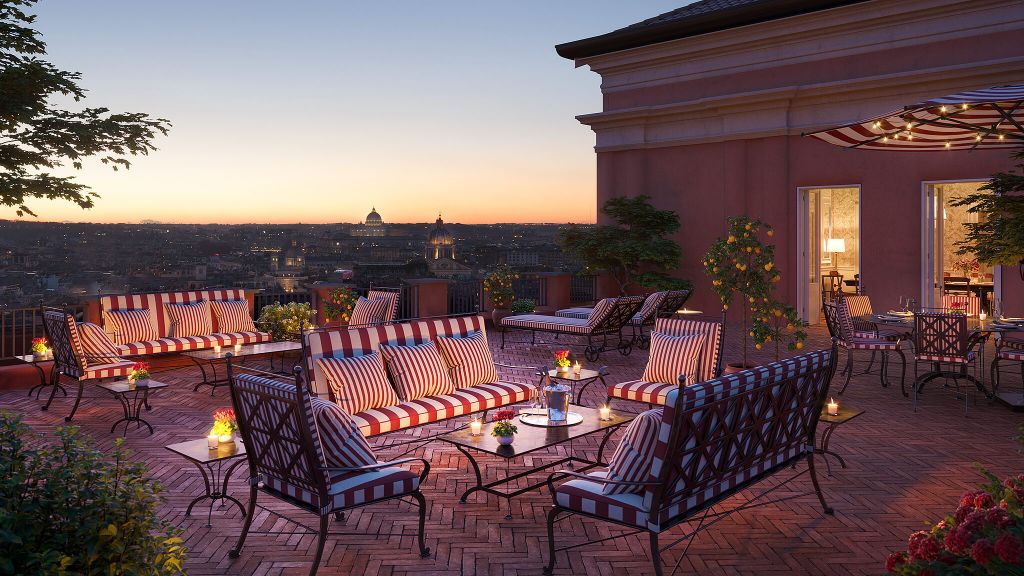 Situated atop Rome's iconic Spanish Steps, Hotel de la Ville is an ideal starting point for your Roman holiday. An elegant marriage of contemporary luxury and unparalleled service, Hotel de la Ville is a gateway to exploring Rome's many treasures. The interior, a collaboration between Olga Polizzi and renowned architect Tommaso Ziffer, entwines traditional design elements with state-of-the-art technology to stunning effect.
Villa Spalletti Trivelli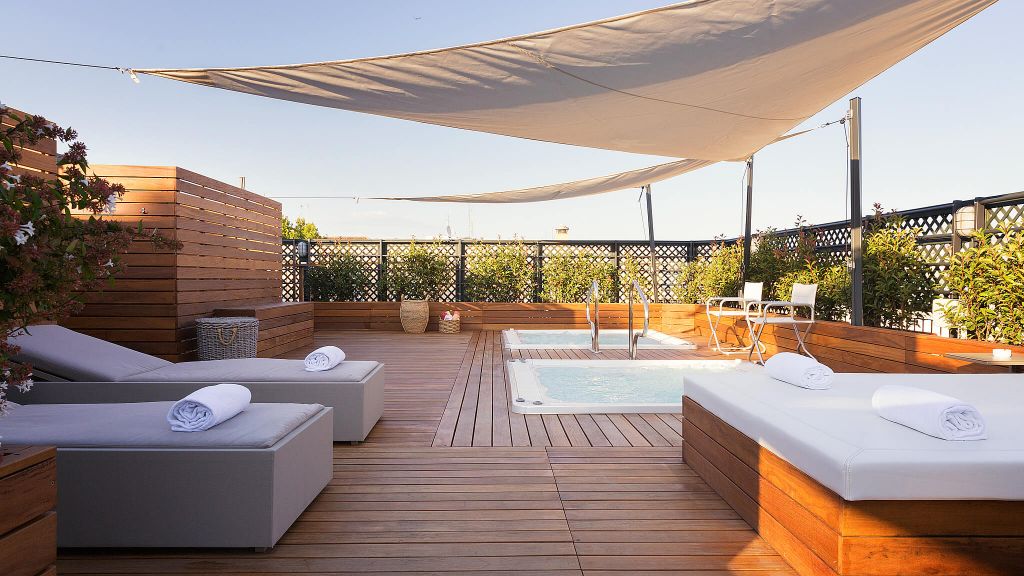 While many hotels keep little more than a veneer of the historical context from which they grew, Villa Spalletti Trivelli Rome exhibits its age so beautifully, staying here is like going back in time. Villa Spalletti Trivelli is not just a luxury hotel; it is a period residence. It has maintained the historical elements of its original construction inside and out, such that you'll feel as though you're eating at the table of an Italian aristocrat. You'll be immersed in a culture that, almost everywhere else in Rome, was swept away long ago.
Hotel Eden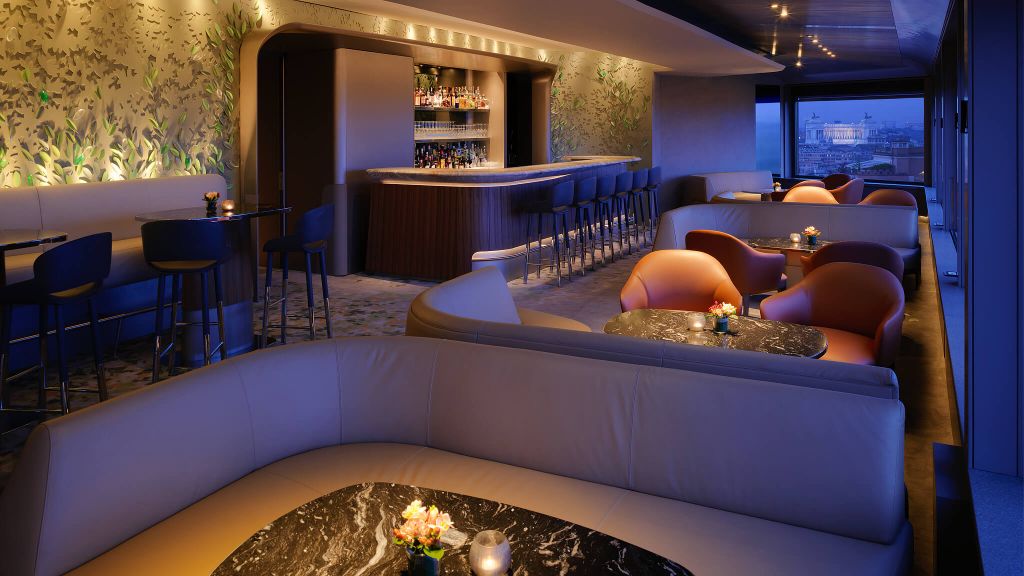 Experience some of the finest luxury Rome has to offer in the historic Hotel Eden, overlooking the legendary seven hills in the cultural and historic center of Rome. Unparalleled comfort awaits you at the Hotel Eden, one of Rome's finest since its inception in 1889. Elegant rooms and suites feature antique interiors and breathtaking views – enough to make guests feel a part of the Eternal City.
Baglioni Hotel Regina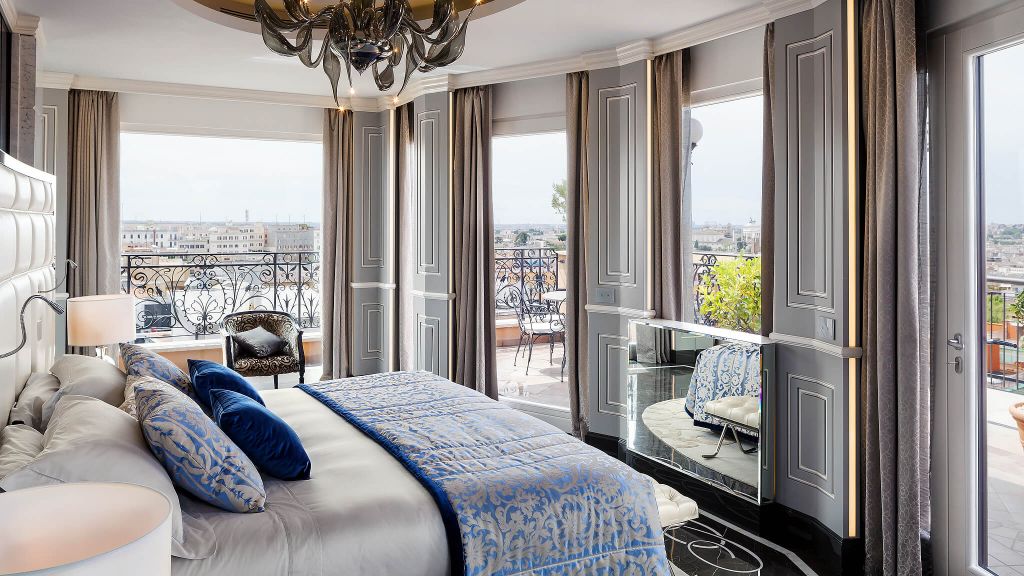 The century-old grandeur of Baglioni Hotel Regina Rome nods to an era when formal attire for meals was de rigueur. Though guests may no longer wear cufflinks at breakfast, the slant on sophisticated service hasn't moved an inch.
Rome Cavalieri, A Waldorf Astoria Hotel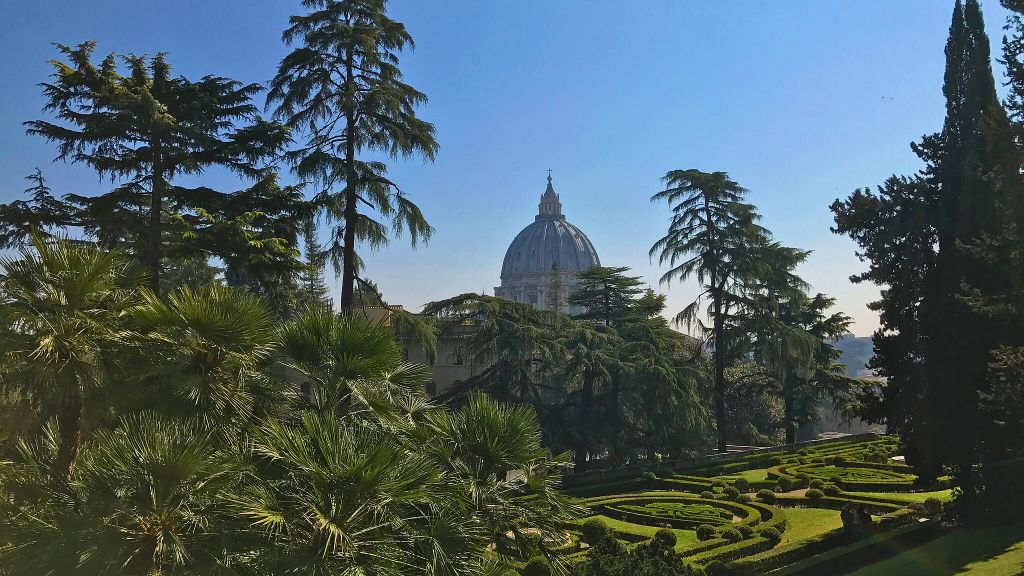 Rome Cavalieri, A Waldorf Astoria Hotel, is a serene oasis overlooking Rome's Vatican City. Situated near Villa Madama, St. Peter's Basilica, and the Roman Forum, Rome Cavalieri is a perfect location from which to explore and discover the history and elegance of Roma. In this romantic walking city, must-sees such as the Vatican Museum and the Colosseum are all within reach, as is the Trevi Fountain, the Spanish Steps, and some of the finest pasta you will ever experience.
Portrait Roma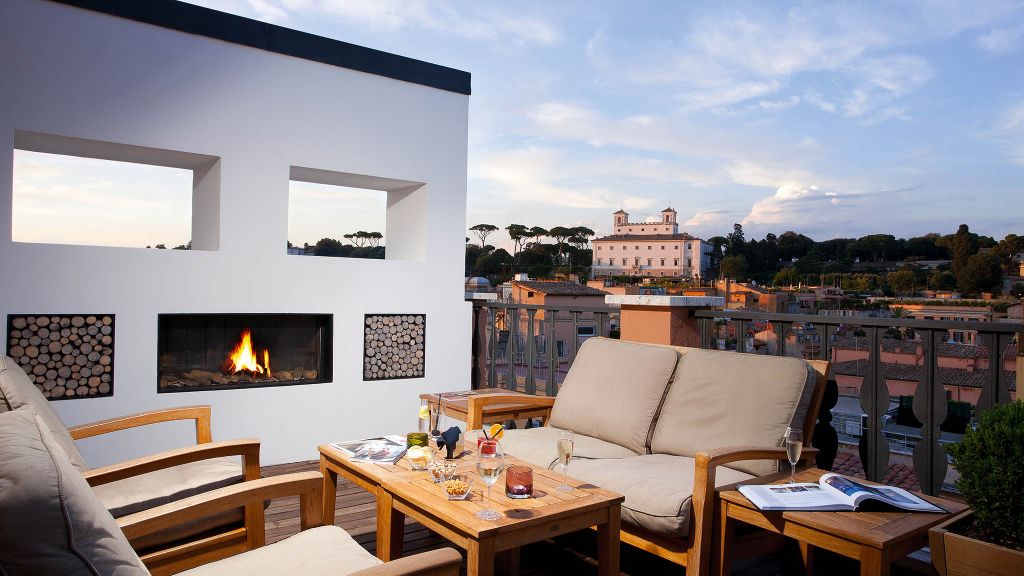 Sitting above the Ferragamo store on the Via Condotti in Rome's luxury shopping district, Portrait Roma is the perfect destination for travelers with a taste for the finer things in life.
Singer Palace Hotel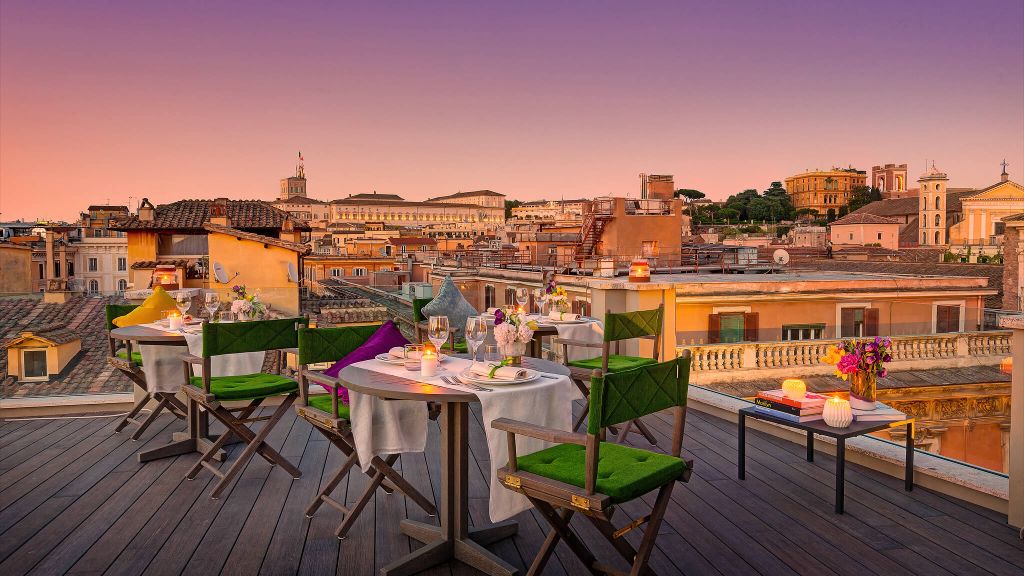 Built nearly a century ago, Singer Palace Hotel is an Art Deco palace brimming with history in the heart of the Eternal City. Originally constructed by the Singer sewing company, this property has recently been transformed into a contemporary Roman boutique hotel under the watchful eye of a local architect and Milanese designer.
The St. Regis Rome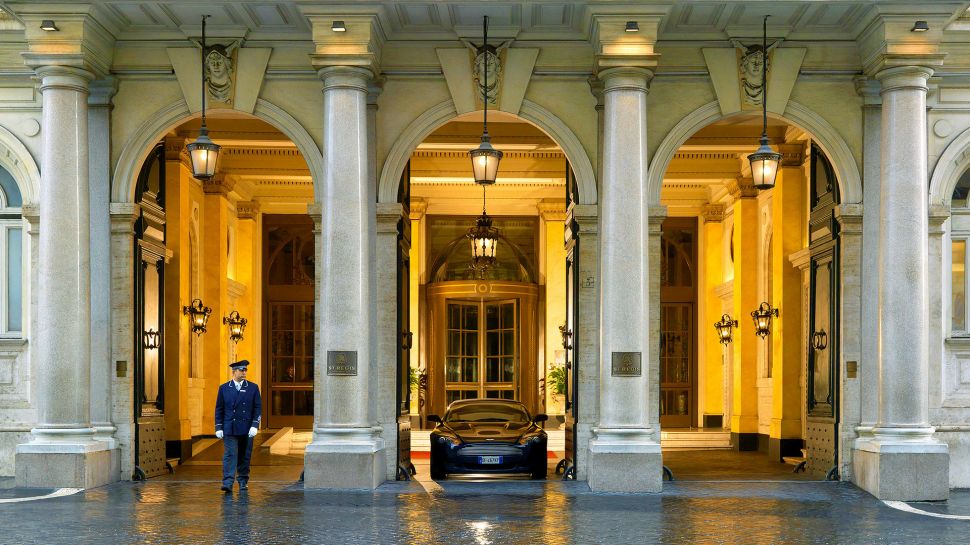 Whether you're in town for business or pleasure, Rome is well enjoyed from the comfort of The St. Regis. With a plethora of points of interest nearby such as St. Peter's Basilica and Vatican City, the surrounding area itself is a spectacular sight. The imposing facade and eye-popping interiors of The St. Regis Rome are precisely what discerning guests expect from an Italian luxury hotel.
The Westin Excelsior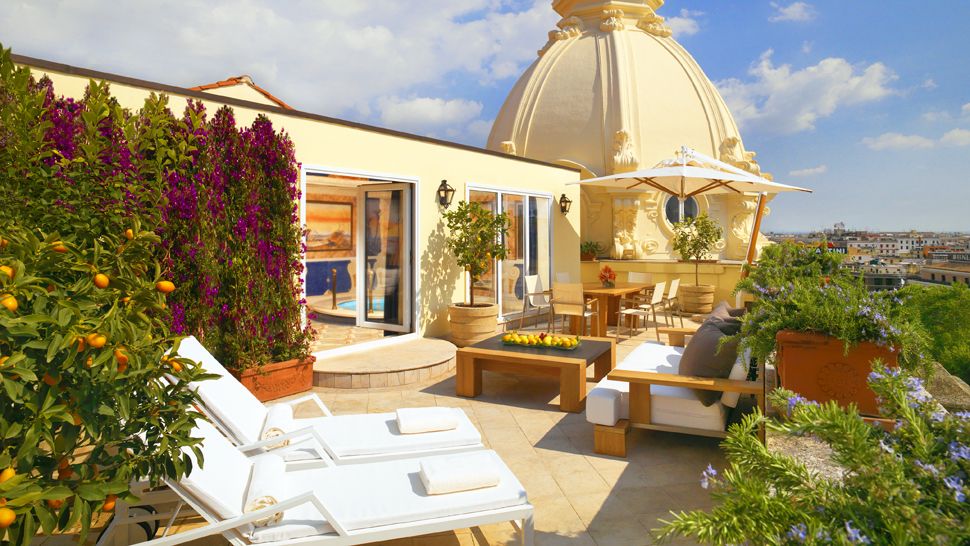 One of Rome's great legendary hotels, The Westin Excelsior is located in the prestigious Via Veneto district, minutes from the Piazza di Spagna and the Villa Borghese Gardens. As if Rome wasn't legendary enough. Famous in its own right, The Westin Excelsior, Rome, has been hosting celebrities, statesmen, and artists since 1906, and offers legendary service and accommodations.
Fendi Private Suites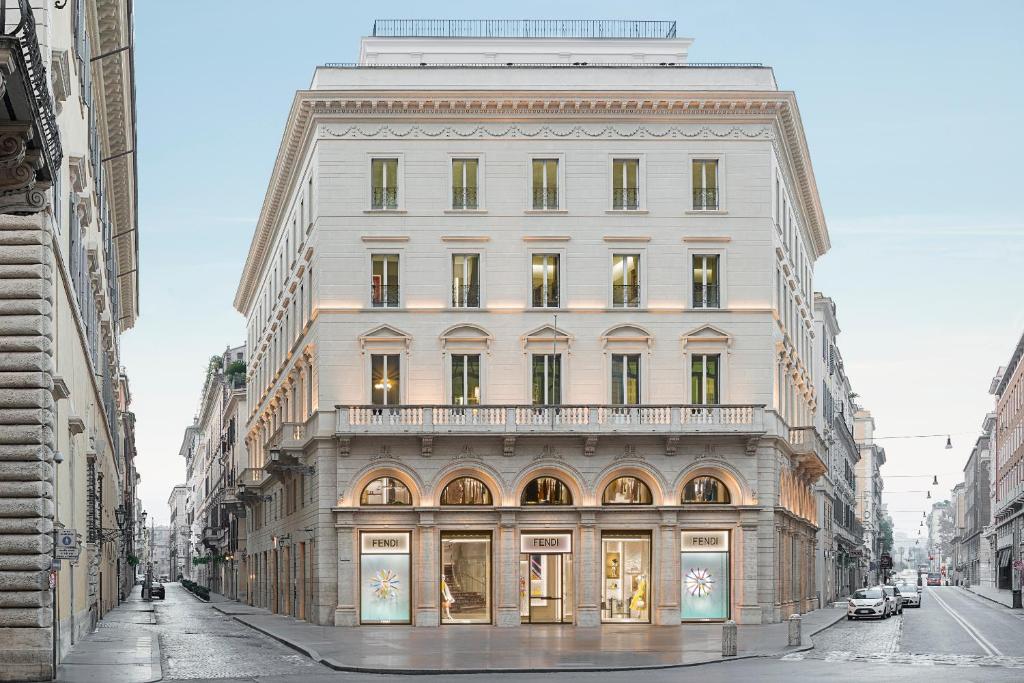 The Fendi Private Suites are located in Palazzo della Civiltà Italiana, one of Rome's most iconic buildings. Each suite boasts breathtaking views of the city skyline and features luxury interior design by renowned fashion house Fendi. The suites feature separate living and sleeping areas, private terraces with outdoor seating and kitchenettes stocked with a selection of snacks, drinks and other refreshments.
J.K. Place Roma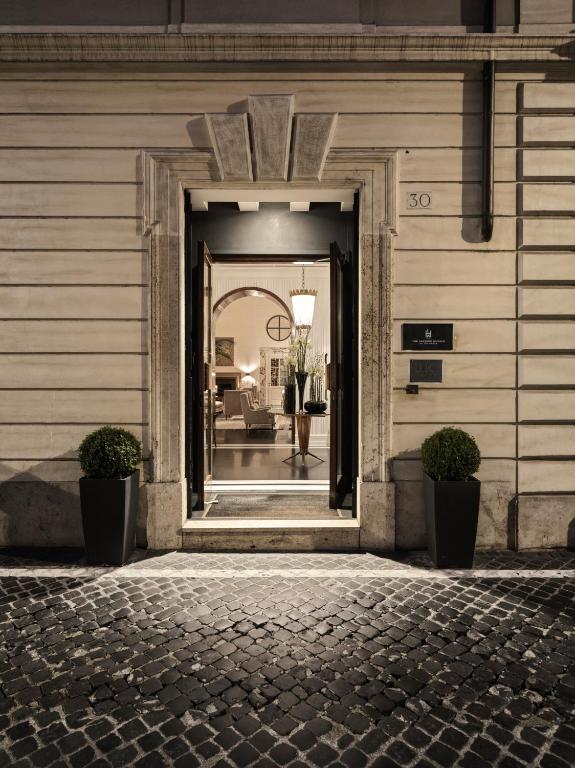 For those seeking a luxurious stay in Rome, Hotel J.K. Place Roma is the perfect choice. This five-star hotel offers an array of amenities and services that will make your Roman experience truly special. The rooms at J.K. Place Roma are comfortable and stylishly decorated with custom furnishings, original artwork and luxurious fabrics to create a modern yet calming atmosphere for guests to relax in after exploring the city. For further relaxation, all rooms come with access to spa treatments from their wellness centre as well as 24-hour room service.
Hassler Roma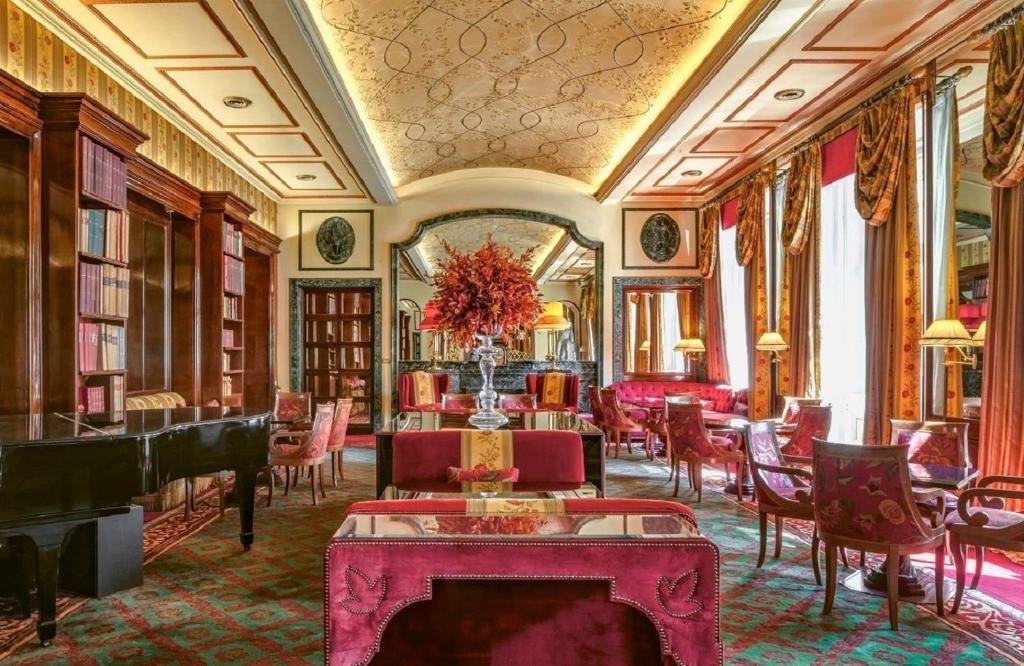 The Hassler is one of the most luxurious and iconic hotels in Rome, offering its esteemed guests an unprecedented level of comfort and service. Located at the top of the Spanish Steps, this historic hotel overlooks one of the most picturesque views in all of Rome – the breathtaking façade of St. Peter's Basilica. The Hassler's restaurants are famed for their exquisite Italian cuisine which can be enjoyed either on site or delivered directly to your suite for an intimate dining experience. For those looking for something even more exclusive, the Dining Room at Imàgo – located at the very top floor of the hotel – provides a unique 360° panorama over Rome as you enjoy fine Italian food prepared by renowned Michelin star chef Heinz Beck.
–
Check out our travel guides: