Nobu Hotel Ibiza Bay, Ibiza
June 13, 2023
Nobu Hotel Ibiza Bay offers a wealth of options for the discerning traveler, including world-class dining, a tranquil setting, and a Six Senses Spa. Travel to Spain's sun-kissed Balearic Islands for a seriously sexy take on island life.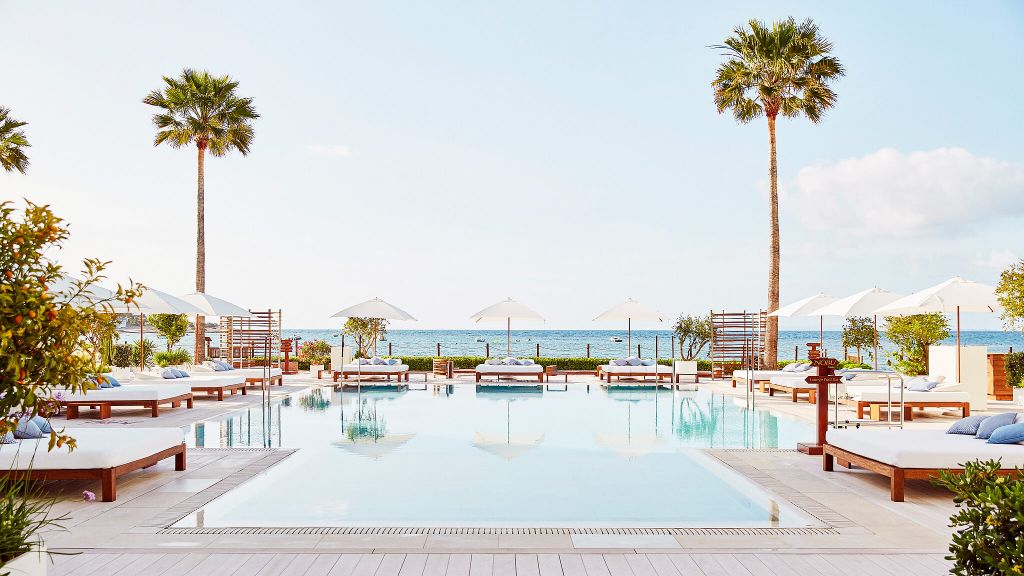 Nobu Hotel Ibiza Bay is one of those rare and special hotels that has an instant wow factor. The latest outpost from the world-famous Nobu Hospitality group combines the world's best cuisine with equally impressive accommodations – an incredibly simple concept executed with style and panache.
The hotel is beachfront in Talamanca, a little away from the island's hedonism and bustle. That being said, guests looking to experience Ibiza's famous nightlife are just over a mile away from Ibiza Town and walking distance from the world-famous Pacha club.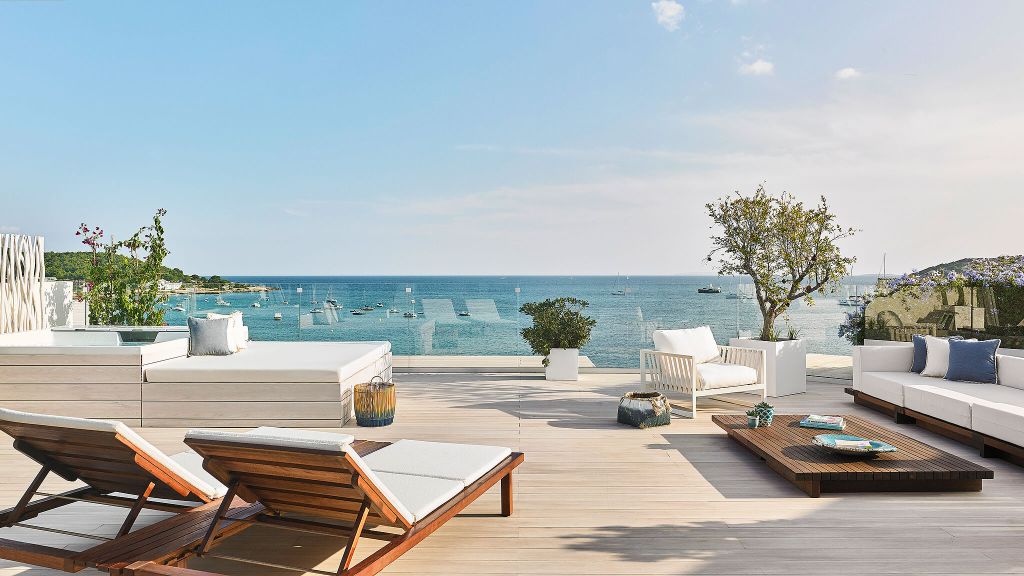 The Nobu Hotel Ibiza Bay is a white four-story complex with rooms arranged around two swimming pools, swaying palms, and terraces. The tranquil Mediterranean serves as a picture-postcard backdrop, and this view becomes a recurring theme during guests' stay, with most of the 152 spacious rooms and suites offering a dreamy ocean view. Each accommodation focuses on neutral, calming colors to create a relaxed atmosphere. Marble bathrooms, floor-to-ceiling windows, and in-room bartending service are among the highlights.
With the Nobu name emblazoned above the door, it's no surprise that dining is the main attraction at the hotel. Begin with Nobu Masuhisa's signature dining experience at his titular restaurant. Enjoy Nobu's distinct take on New Japanese cuisine in a beautiful setting. Nobu isn't the only big name bringing their skills to Ibiza; Michelin-starred chef Dani Garcia invites guests to BiBo, an al fresco Mediterranean dining adventure that captures the spirit of the island. Chambao, the hotel's laid-back chiringuito beach restaurant, and Bay Café both have plenty of healthy options.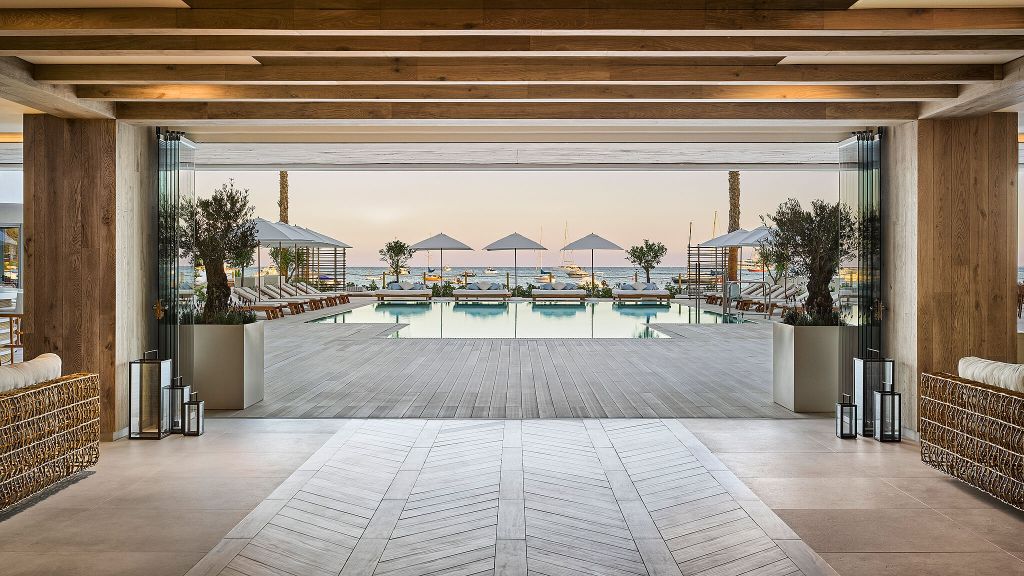 Relaxation is easy at Nobu Hotel Ibiza, which has two stone pools outside and a Six Senses Spa inside. Relax with a wide range of spa treatments, including couples' massages, facials, and so much more. There's also a modern fitness center for working out, as well as a beauty salon and a John Frieda Hair Salon.
Nestled in the azure waters of the Mediterranean Sea, Ibiza is an island paradise that captivates the hearts of visitors from around the globe. Known as the party capital of the world, Ibiza offers much more than just a vibrant nightlife. This Balearic gem boasts pristine beaches, stunning landscapes, and a rich cultural heritage that beckons travelers of all kinds.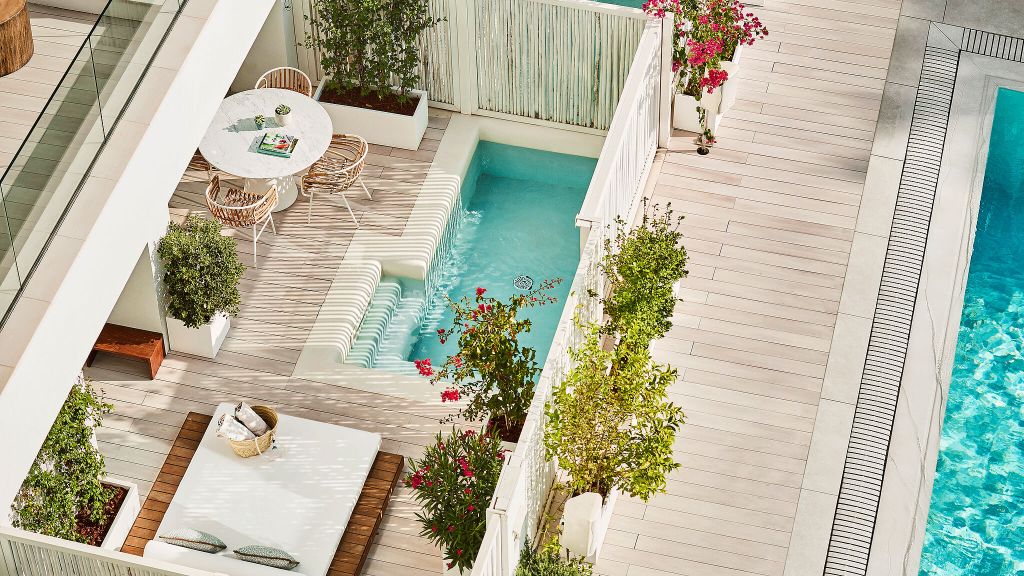 Ibiza's beaches are simply unrivaled. From the famous Playa d'en Bossa with its lively atmosphere and crystal-clear waters to the secluded coves of Cala Comte, each beach exudes its own charm and allure. Sun worshipers can bask in the Mediterranean rays, while water sports enthusiasts can take advantage of the excellent conditions for activities like snorkeling, diving, and jet skiing. For those seeking serenity, the island offers hidden gems like Es Vedrà, a mystical rock formation surrounded by turquoise waters that have long been associated with legends and myths.
Beyond its beaches, Ibiza is a melting pot of culture and history. The UNESCO-listed Dalt Vila, Ibiza Town's fortified old quarter, invites visitors to wander its cobbled streets and discover its ancient architecture and charming boutiques. Art lovers can explore the numerous galleries and museums, showcasing works by local and international talents. The island also hosts vibrant markets, where one can immerse themselves in the colorful tapestry of local artisans, fashion, and gastronomy. From lively street festivals to open-air concerts and world-class DJ performances, Ibiza's cultural calendar is filled with excitement throughout the year.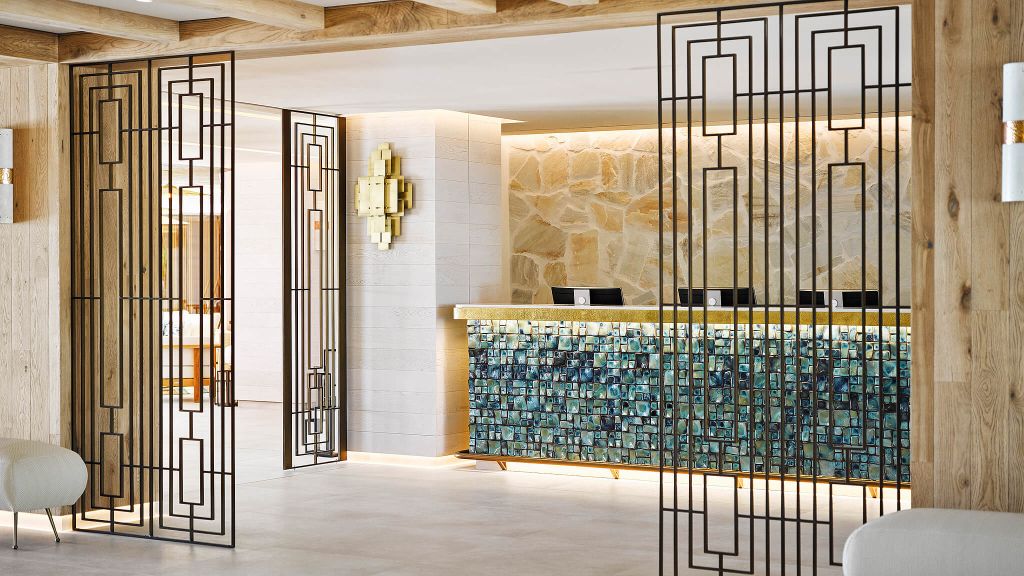 This is the guide of the best hotels in the world.