The best hotels in Miami
May 13, 2023
Here is our selection of the best hotels in Miami. This selection is independent and is made by the quality of service, the environment, and the experience of the hotel offered to its customers.
Miami is a captivating touristic destination that offers an enticing blend of stunning beaches, vibrant culture, and vibrant nightlife. With its year-round tropical climate and pristine coastline, Miami attracts sunseekers from around the world. From the iconic South Beach with its colorful Art Deco architecture and bustling Ocean Drive to the serene beaches of Key Biscayne, visitors can bask in the warm sunshine, swim in the crystal-clear waters, and partake in a variety of water sports and activities. Moreover, Miami's diverse cultural scene adds to its allure, with neighborhoods like Little Havana showcasing the city's rich Hispanic heritage, while the Wynwood Art District delights art enthusiasts with its vibrant street art and galleries.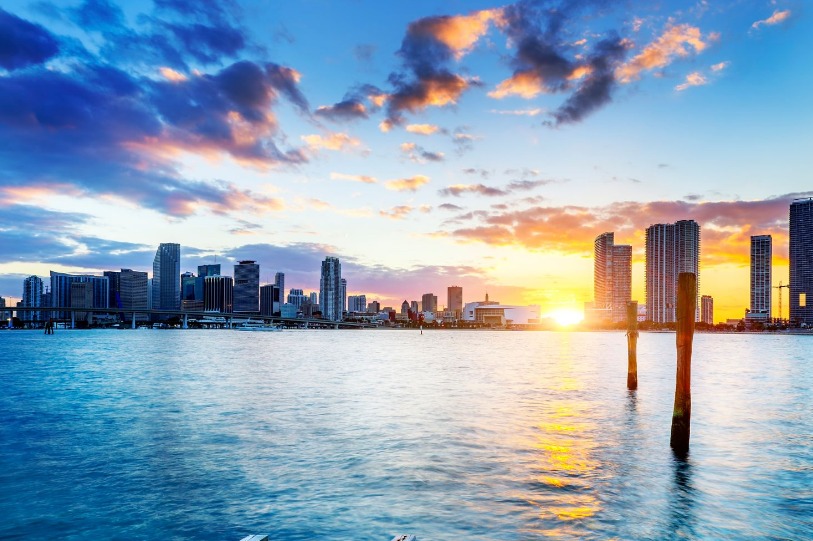 Beyond its beautiful beaches, Miami offers a multitude of attractions and experiences. The city is renowned for its vibrant nightlife, with world-class clubs, lounges, and bars that cater to every taste. The culinary scene is equally impressive, with a melting pot of flavors from around the world, from Cuban cuisine to fresh seafood delicacies. Additionally, Miami hosts various cultural events and festivals throughout the year, including the renowned Art Basel Miami Beach, highlighting its status as a global art hub. With its blend of natural beauty, cultural diversity, and endless entertainment options, Miami is a captivating destination that appeals to travelers seeking relaxation, excitement, and a taste of the good life.
Here is our selection of the best hotels in Miami, in no particular order.
Acqualina Resort & Residences on the Beach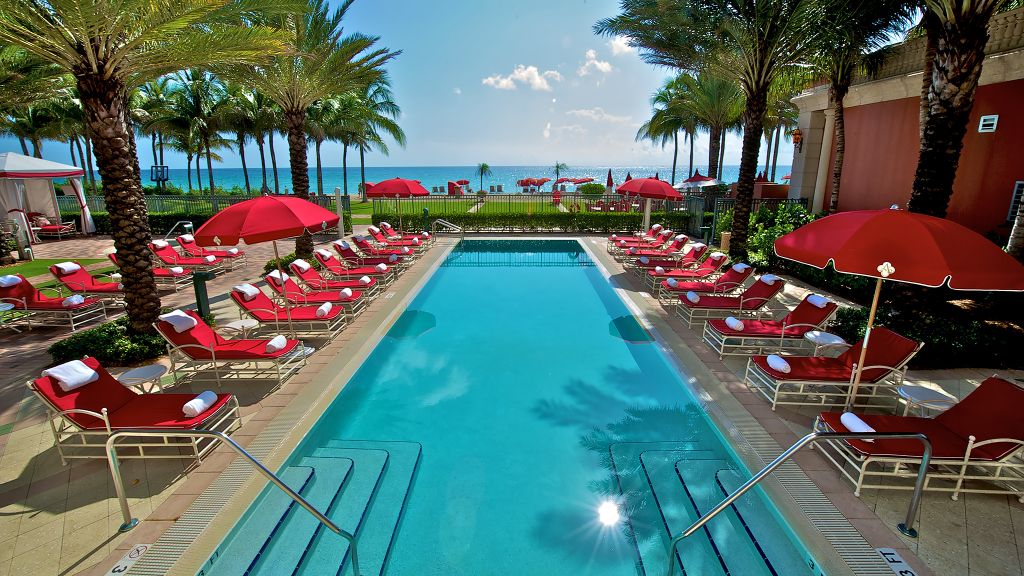 Whether romantic escape or Florida family vacation, Acqualina Resort & Residences on the Beach creates your dream holiday. This Sunny Isles Beach hotel combines old-world charm and thoughtful service. Miami Beach means a lot of things – white-sand beaches, glorious shopping, fine dining, world-class golf – but what if you could enjoy it all from a Mediterranean villa, watching the sunset from your private terrace? That's the feeling you'll get at the Acqualina Resort on beautiful Sunny Isle Beach, where the attentive staff pampers every guest.
1 Hotel South Beach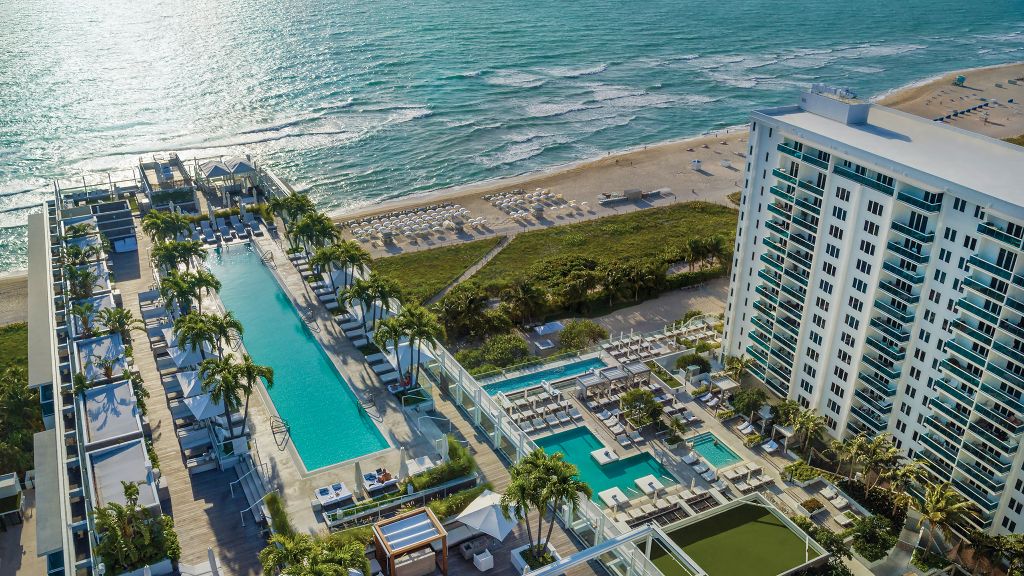 A chic retreat from the hustle and bustle of the city, LEED-certified 1 Hotel South Beach provides a soothing environment of natural wood furnishings and white surf lapping against golden sands. Four swimming pools and 425 accommodations await guests here, while a tablet with daily digital newspaper comes as standard. A pristine beach is located right outside the front door, with private cabanas and ample opportunities for people watching. If heading beachside sounds too rugged for you, retreat to the rooftop pool for panoramic views, delicious cocktails and a fun scene.
The St. Regis Bal Harbour Resort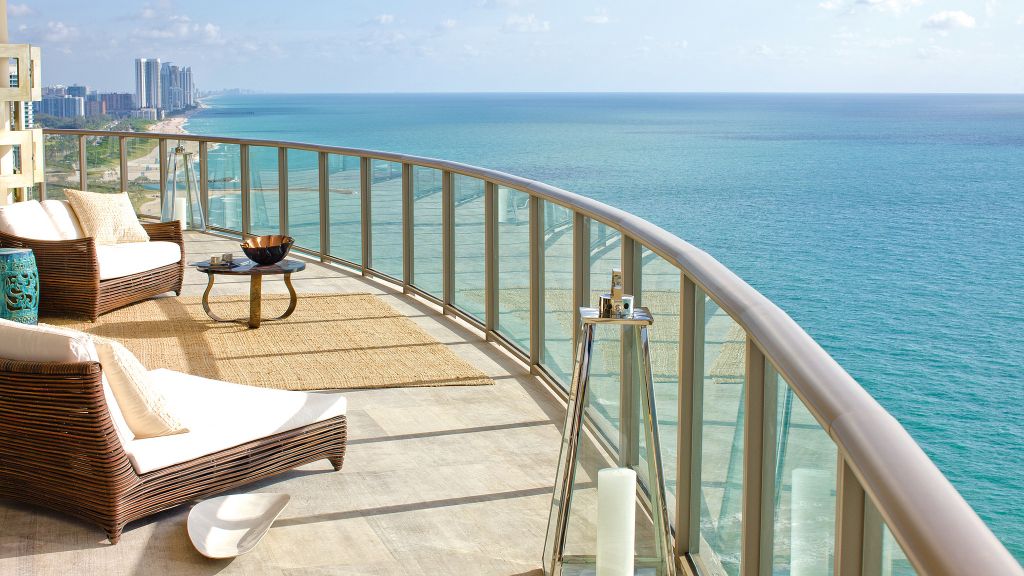 Across the street from infamous Bal Harbour shops and minutes away from Miami's South Beach, sits The St. Regis Bal Harbour Resort, with some of the most luxurious accommodations in South Florida. 216 elegantly appointed ocean view rooms and suites welcome guests to St. Regis' luxury Miami Beach accommodations. Soft colors, effortless style, and incredible interior design deliver the kind of comfort that seems to make dreams come true. Choose from very large guest rooms to oversized suites, all with the largest all-ocean views in South Florida. Stunning views of the Atlantic Ocean and opulently luxurious furnishings combine to create accommodation perfection.
Nobu Hotel Miami Beach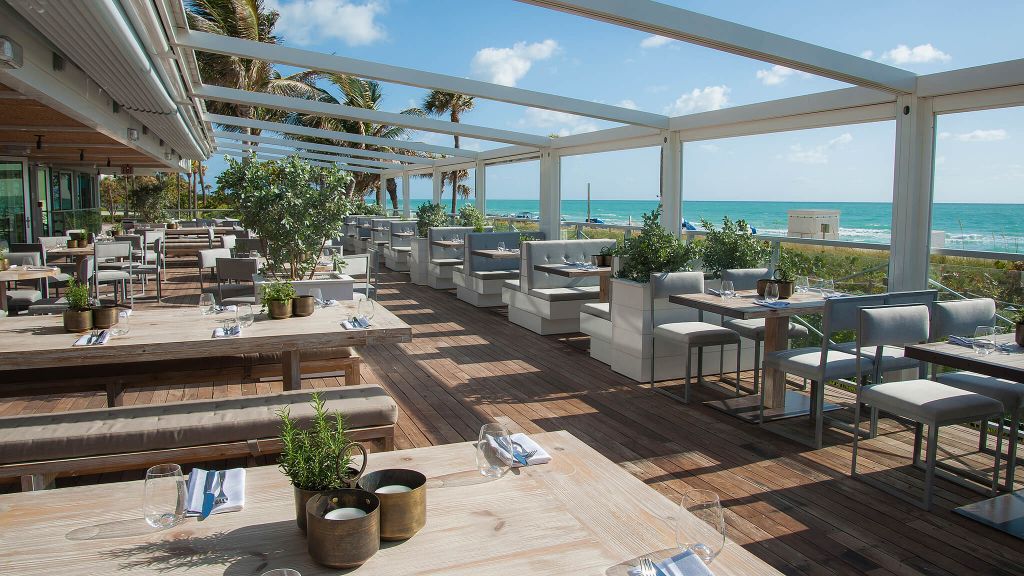 Crafted and cultivated by world-famous Japanese chef, Chef Nobu Matsuhisa and Academy Award-winning actor, Robert De Niro, Nobu Hotel brings both an illuminating and one-of- a-kind experience to the shores of Miami Beach. Nobu Hotel Miami Beach delivers the perfect balance of luxury, fun, craft and theater. The hotel boasts 206 guest rooms and suites are adorned with Japanese-inspired décor, along with four luxurious swimming pools and expansive spa and fitness facilities. To create a relaxing setting, the interiors are decorated with black and white photography of Japanese landscape, wood furniture, and lantern-style lighting.
Faena Hotel Miami Beach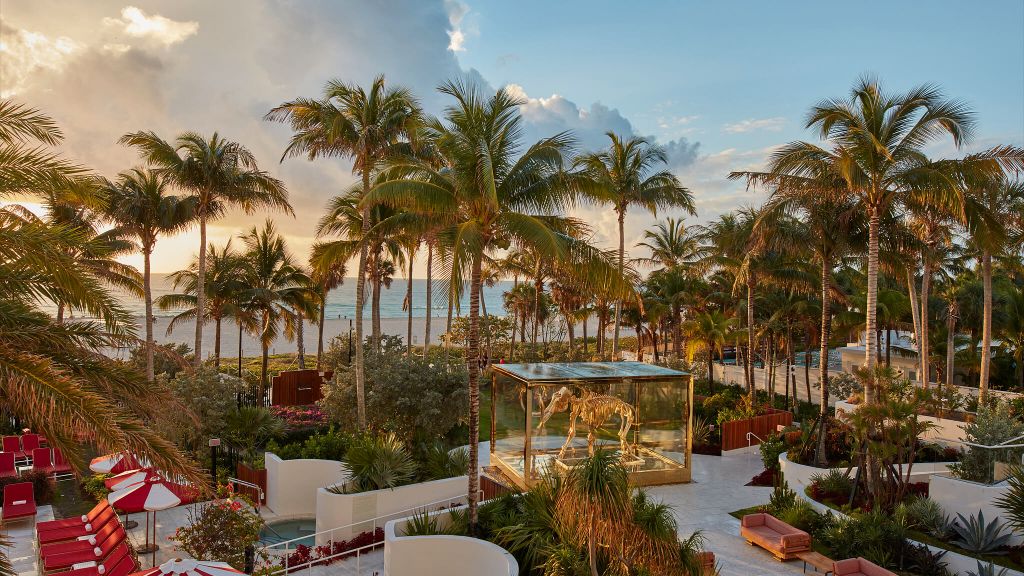 Step into a world that blurs the line between dreams and reality at Faena Hotel Miami Beach. This wonderland of color, sunshine and glamour effortlessly captures the imagination. From signature candy cane-striped umbrellas and luxurious private poolside cabanas, you're bound to find your place in the sun at Faena Hotel. This Miami Beach luxury hotel is a place where sunshine restores, ocean air refreshes and service fulfills. With one-of-a-kind restaurants, nightly live music, concerts, cooking classes and more, there is never dull moment around here.
The Setai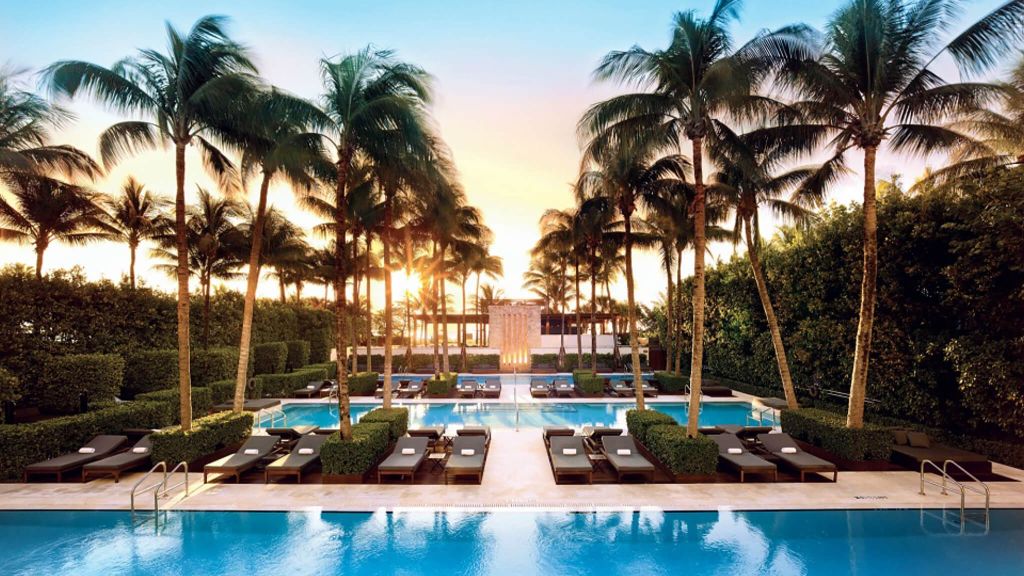 Miami's South Beach is synonymous with excitement and energy, making it the perfect counterpoint for The Setai, a luxury hotel known for its grace and serenity. One would not usually be inclined to describe Miami's hot spots as serene. Unless, of course, the spot in question is The Setai, an intimate ocean front resort situated in the heart of Miami Beach, where its design blends the rich architectural history of the neighborhood with its cultural diversity.
Fontainebleau Miami Beach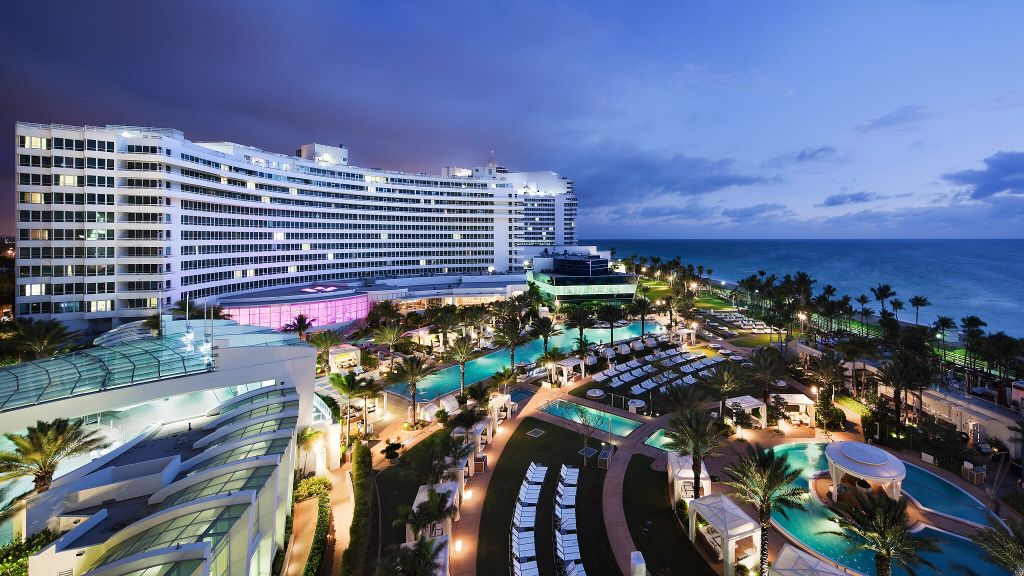 Grand in scale and character, this sumptuously updated architectural landmark brings together all the glamour of Miami Beach – and gets every detail right. You never forget a face – especially when it's as iconic as Fontainebleau Miami Beach. By the pool below the white high-rise curve of this 1954 hotel, James Bond had a tense and sunny cinematic encounter with Goldfinger. Today, you have six pools to choose from, and a private VIP cabana with a lounge, deck, and butler service.
The Biltmore Hotel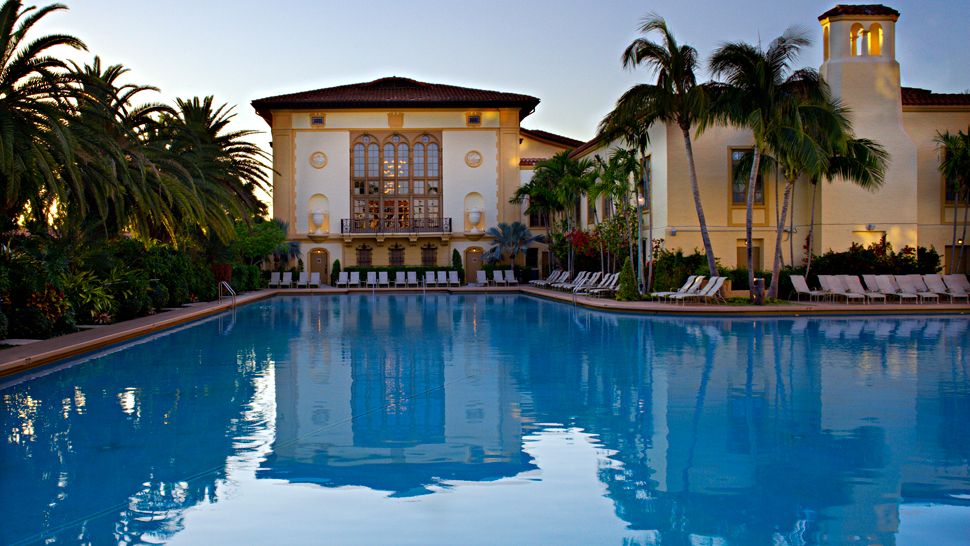 A fairytale-like structure in a tropical setting that would have most princesses trading there tiaras for sunglasses in a heartbeat. The Elegant Biltmore Hotel in Coral Gables ensures that Miami stays classy. Since the 1920s, Miami's Biltmore Hotel has filled the seaside city's skies with an air of sophistication. Marble columns, travertine flooring, arches, and leaded glass transport guests through not only time, but also place, back to an early 20th-century Mediterranean setting. When guests aren't out swishing their drivers over the manicured grasses of the hotel's Donald Ross-designed golf course, they might be inside enjoying a spirited cooking lesson at the Biltmore Culinary Academy – ideal for aspiring chefs of all levels and ages.
Kimpton EPIC Hotel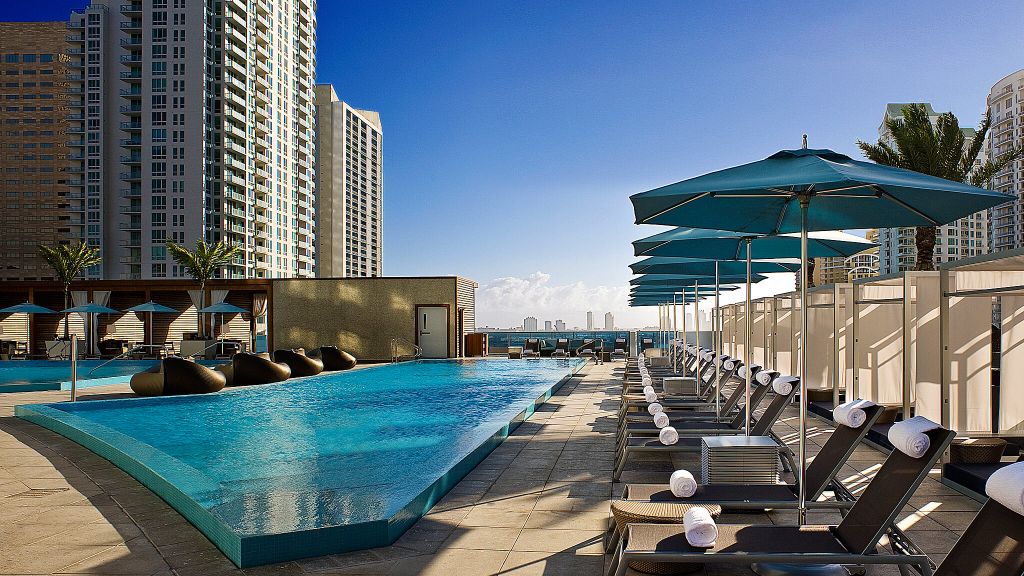 Make your way to Miami and meander over to the city's Kimpton EPIC hotel. Modern, sophisticated, and fun, Kimpton EPIC Hotel is the kind of place where lounging becomes truly effortless, and relaxation is never boring. "Epic" is an apt way to describe Miami. So it goes without saying that a hotel brave enough to be similarly named had better deliver. Rest assured, however: EPIC Hotel always does.
SLS Brickell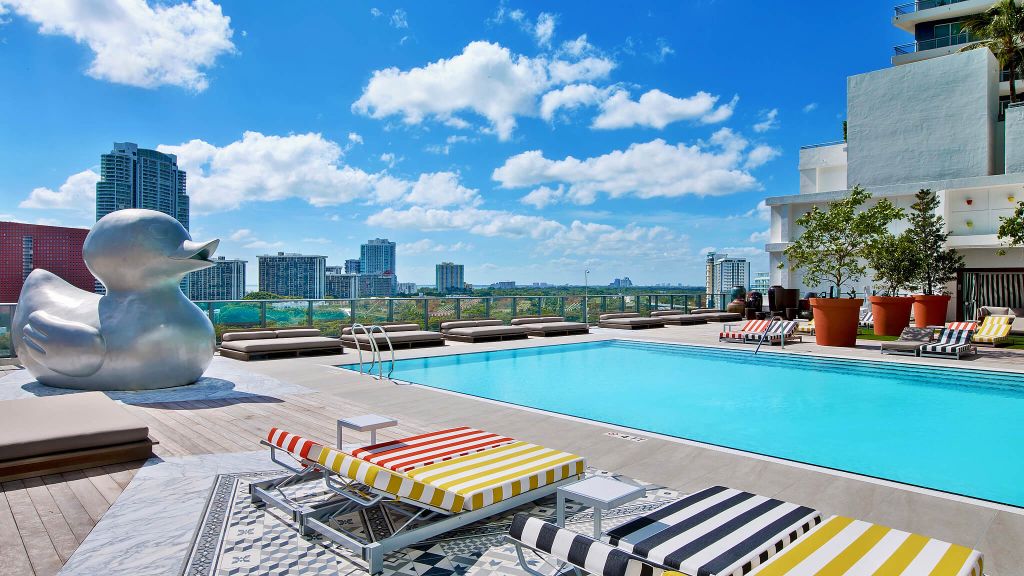 A luxurious glass tower perched above downtown Miami's financial district, SLS Brickell is a chic hotel designed for the modern traveler. Stunning interiors and unforgettable dining await at SLS Brickell, a towering 55-story luxury hotel set in the heart of downtown Miami. The fantastical spaces have all been given the Philippe Starck design touch, and an impressive collection of contemporary art is worth a second look. A true mix of work and play, this five star Miami hotel features two superb restaurants, a panoramic pool deck and over 58,000 square feet of event space.
The Miami Beach EDITION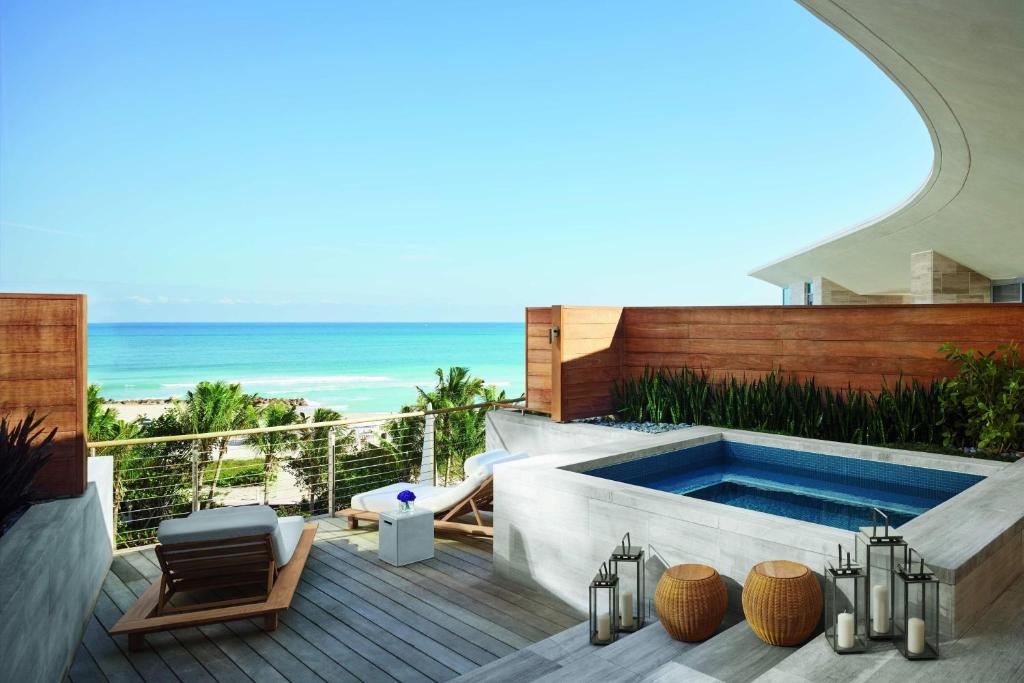 The Miami Beach EDITION is a luxurious hotel that epitomizes the vibrant and glamorous spirit of Miami Beach. Located right on the oceanfront, it offers breathtaking views of the Atlantic Ocean and easy access to the pristine sandy beaches. The hotel boasts stylish and contemporary rooms and suites designed with modern elegance, featuring luxurious amenities and stunning ocean or city views. With a wide range of dining options, a rooftop pool, a world-class spa, and an array of upscale amenities, The Miami Beach EDITION ensures a truly unforgettable and indulgent experience for its guests.
The Standard Miami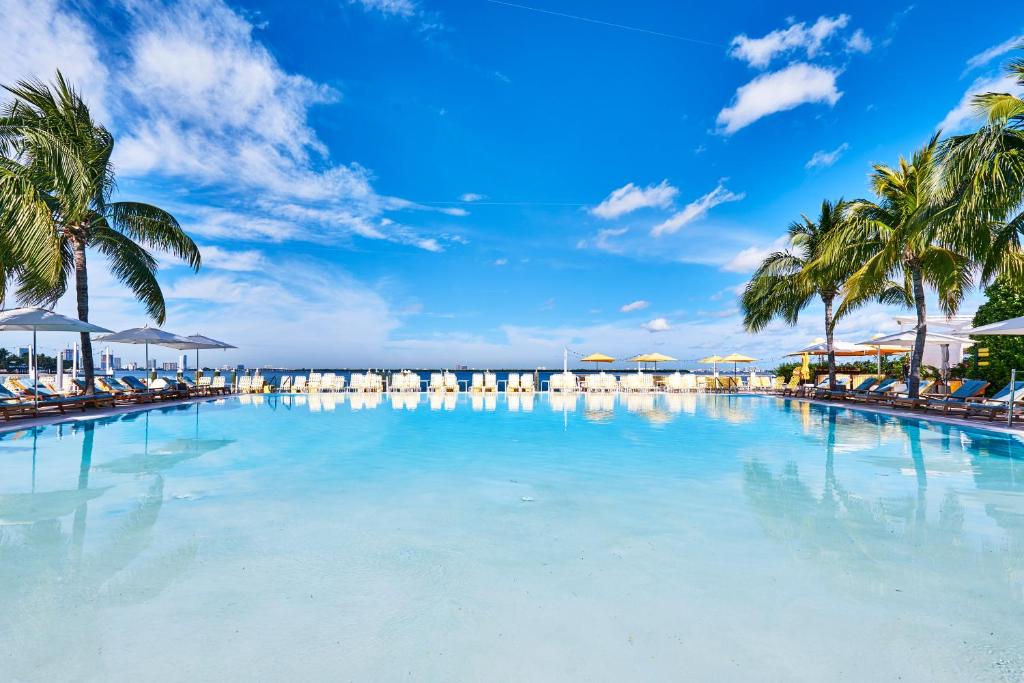 The Standard Miami is a stylish and trendy hotel that captures the essence of Miami's vibrant culture. Situated on Belle Isle, it offers a secluded oasis just minutes away from the bustling South Beach scene. The hotel features modern and minimalist rooms and suites with a touch of bohemian charm, offering serene views of the Biscayne Bay or the lush gardens. Guests can unwind at the hotel's iconic infinity pool, indulge in rejuvenating spa treatments, and savor delectable cuisine at the on-site restaurant. With its unique atmosphere and top-notch amenities, The Standard Miami provides a chic and relaxing retreat for discerning travelers.
Four Seasons Hotel at The Surf Club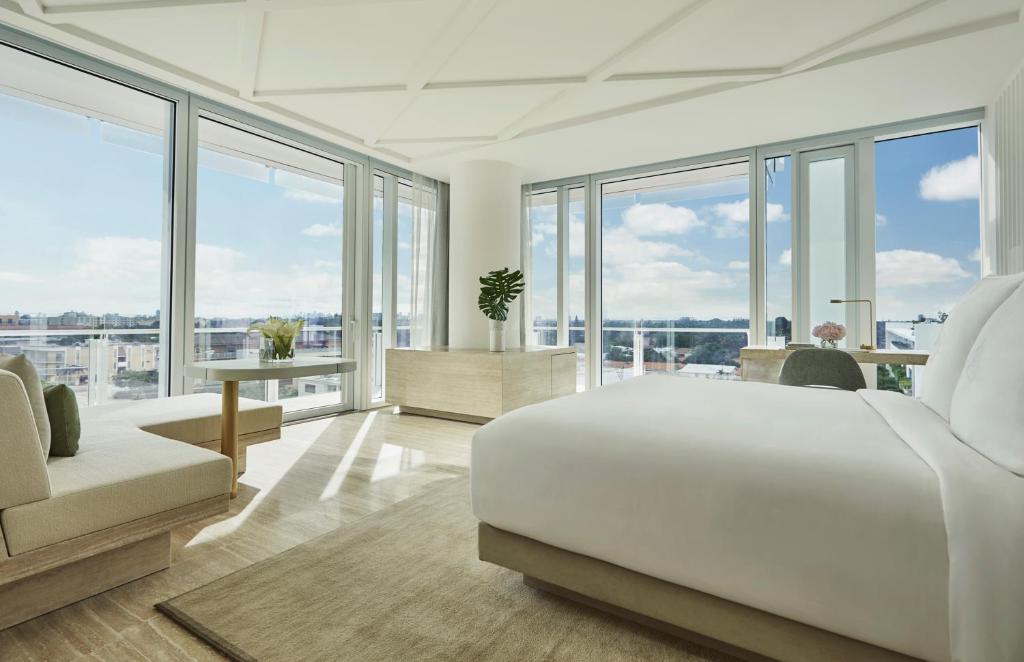 The Four Seasons Hotel at The Surf Club is an exquisite and legendary hotel that captures the timeless glamour of Miami's golden era. Nestled on the pristine sands of Surfside Beach, it offers a luxurious and exclusive retreat. The hotel showcases sophisticated and elegantly appointed rooms and suites, blending classic and contemporary design elements to create a refined ambiance. Guests can enjoy breathtaking ocean views, relax by the pool in a private cabana, and indulge in world-class dining at the hotel's renowned restaurants. With impeccable service, a pristine beachfront setting, and unparalleled amenities, the Four Seasons Hotel at The Surf Club offers an unparalleled luxury experience.
EAST Miami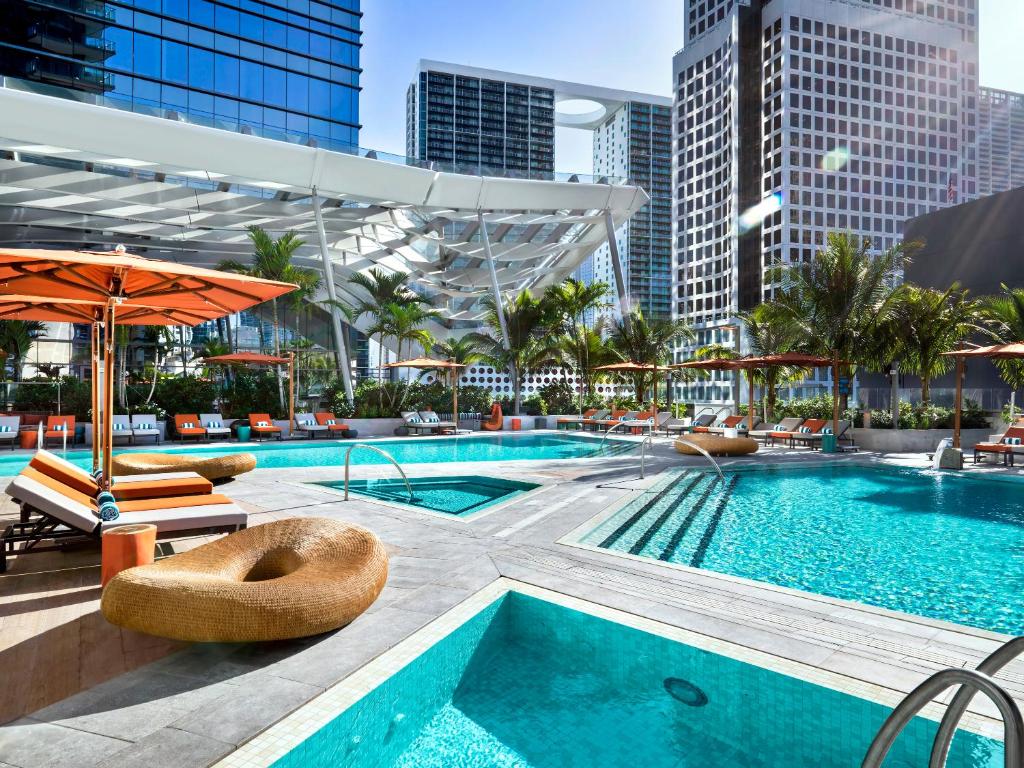 EAST Miami is a modern and chic hotel that embodies the vibrant energy and cosmopolitan charm of Miami. Located in the heart of Brickell City Centre, it offers a prime location for both business and leisure travelers. The hotel boasts sleek and contemporary rooms and suites adorned with stylish furnishings and panoramic city views. Guests can unwind at the stunning rooftop pool and bar, indulge in gourmet dining experiences, and rejuvenate at the state-of-the-art fitness center and spa. With its trendy ambiance, convenient location, and a host of upscale amenities, EAST Miami promises a dynamic and unforgettable stay.
See also our Miami Travel Guide